Phnom Penh (FN), October 28 - Sam Rainsy, former CNRP's President, sent a private letter to Kem Sokha as a current CNRP's President concerning power of decision-making.
The letter dated Oct. 24, 2017 was issued while Cambodia National Rescue Party (CNRP) is internally falling apart.
The letter directed Kem Sokha that in order to issue any important resolutions, he must get consensus from CNRP vice presidents including Mu Sochua, Eng Chhai Eang and Yim Sovann.
Rainsy wrote in a letter that in order to solve some issues that our friends are facing, I would like to remind Your Excellency [Kem Sokha] our agreement in our last meeting. We have agreed and determined to have consensus which comes between you and I, but now consensus will be among Your Excellency and CNRP's senior.
He added when the party has to decide on important issues such as choosing members for the upcoming senators election, please Your Excellency seek unanimous decision among the three senior officials.
In a video Rainsy posted on his Facebook on Saturday, he advised supporters and members of CNRP to not agree with any decisions made by Kem Sokha.
Decisions shall be agreed upon by the members of the Standing Committee.
At least two CNRP senior officials, on behalf of 27, had requested the Standing Committee to remove their candidacies in the upcoming 4th senators election.
=FRESH NEWS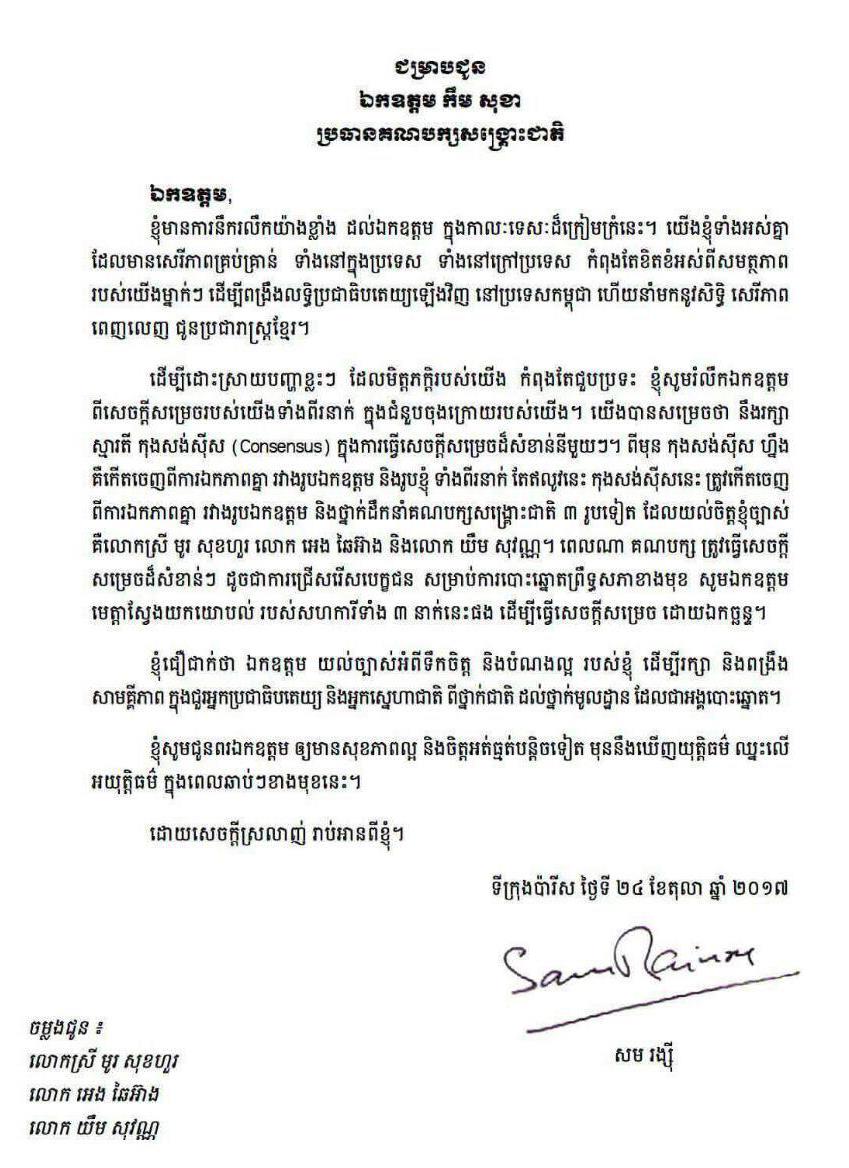 វិដេអូលោក សម រង្ស៊ី ចេញសេចក្តីថ្លែងពីប្រទេសអ៉ីតាលី ហាមលោក កឹម សុខា ចេញសេចក្តីសម្រេចសំខាន់ៗ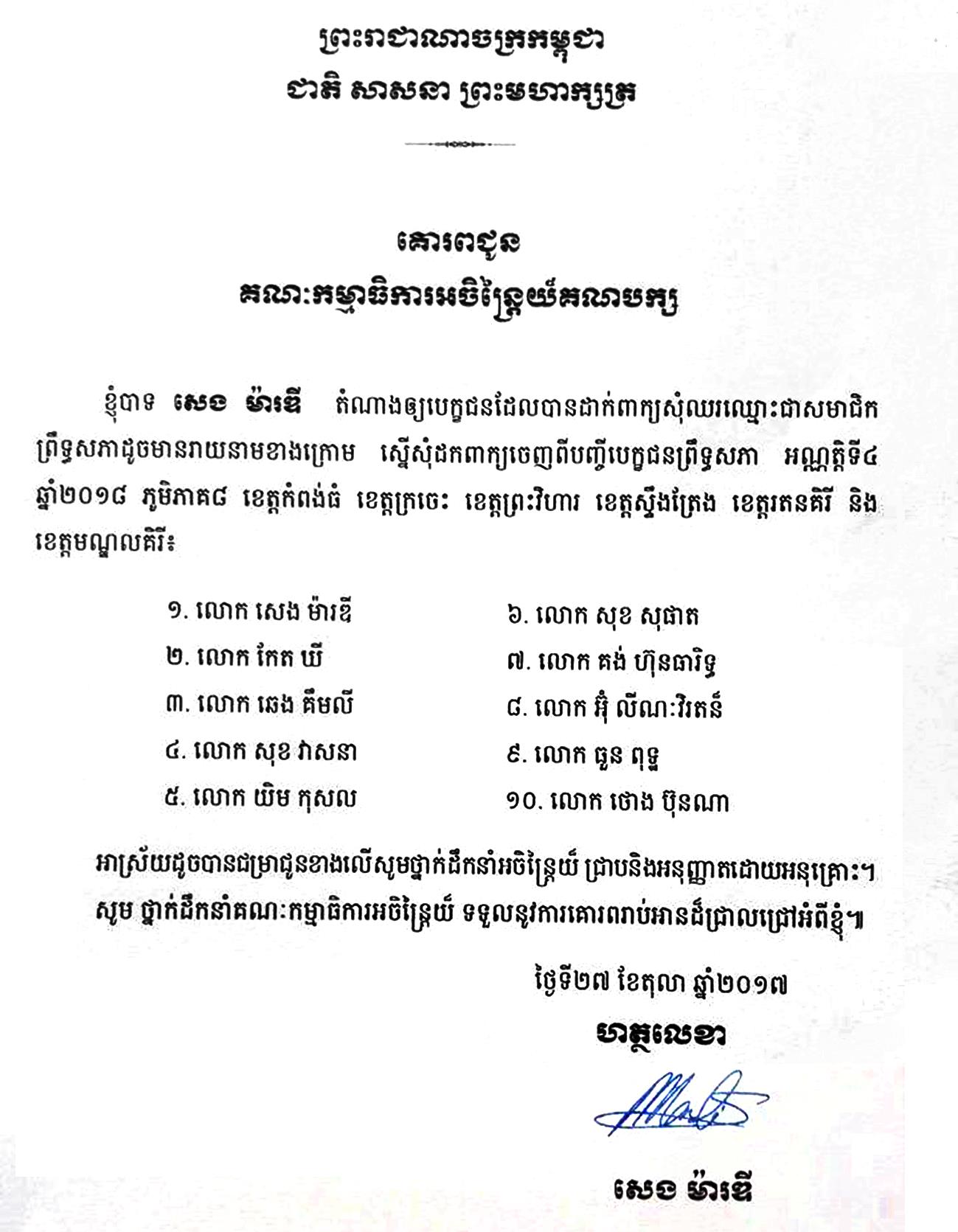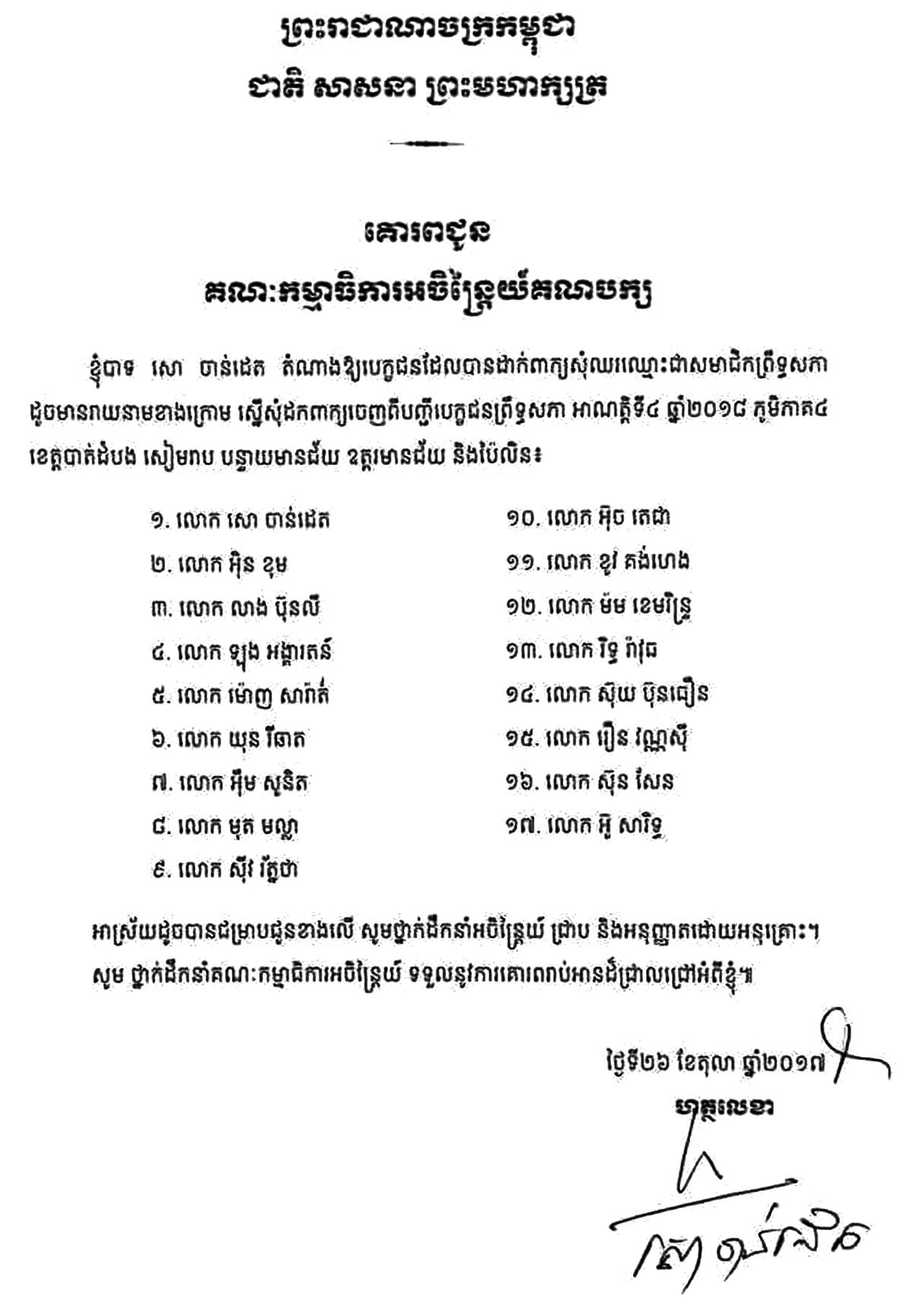 ខាងក្រោមនេះជាបញ្ជីបេក្ខជនឈរឈ្នោះ ដែលត្រូវបានចុះហត្ថលេខាដោយលោក កឹម សុខា ប្រធានគណបក្សសង្រ្គោះជាតិ