Phnom Penh (FN), June 1 – Cambodian Prime Minister Hun Sen led a delegation for a four-day working visit to Tokyo, Japan and attending the 25th International Conference on the Future of Asia and a series of events, from 29-31 May 2019.
Cambodian Prime Minister Hun Sen arrived Tokyo on 28 May 2019. He was warmly welcomed by Japanese senior officials and Cambodian diplomats in Japan.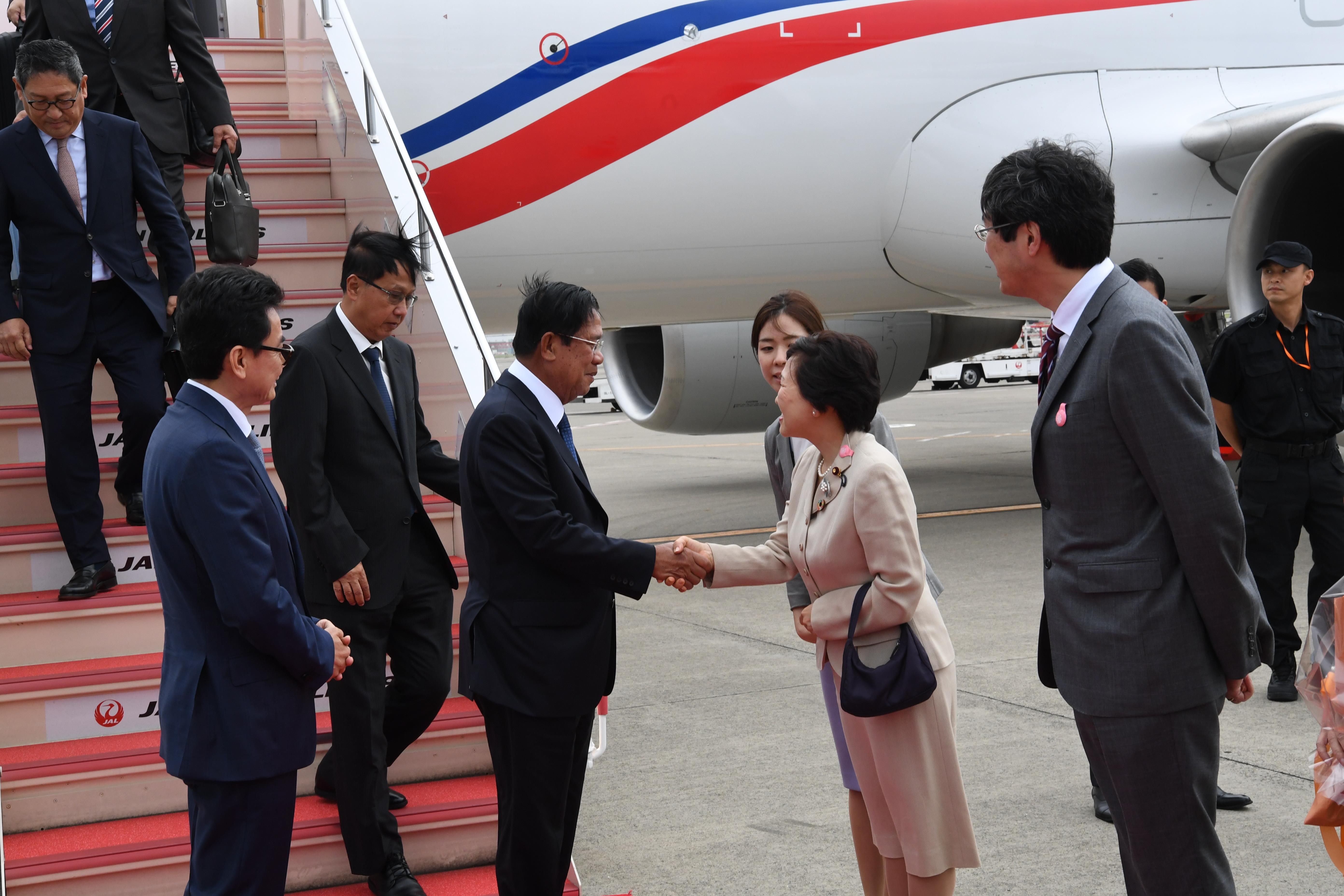 On 29 May 2019, Prime Minister received a courtesy call from Nobuhiko Sasaki, Chairman and CEO of Japan External Trade Organization (JETRO). Nobuhiko informed the Premier that over the past 19 years, Japanese companies under JETRO has increased from 25 to 216.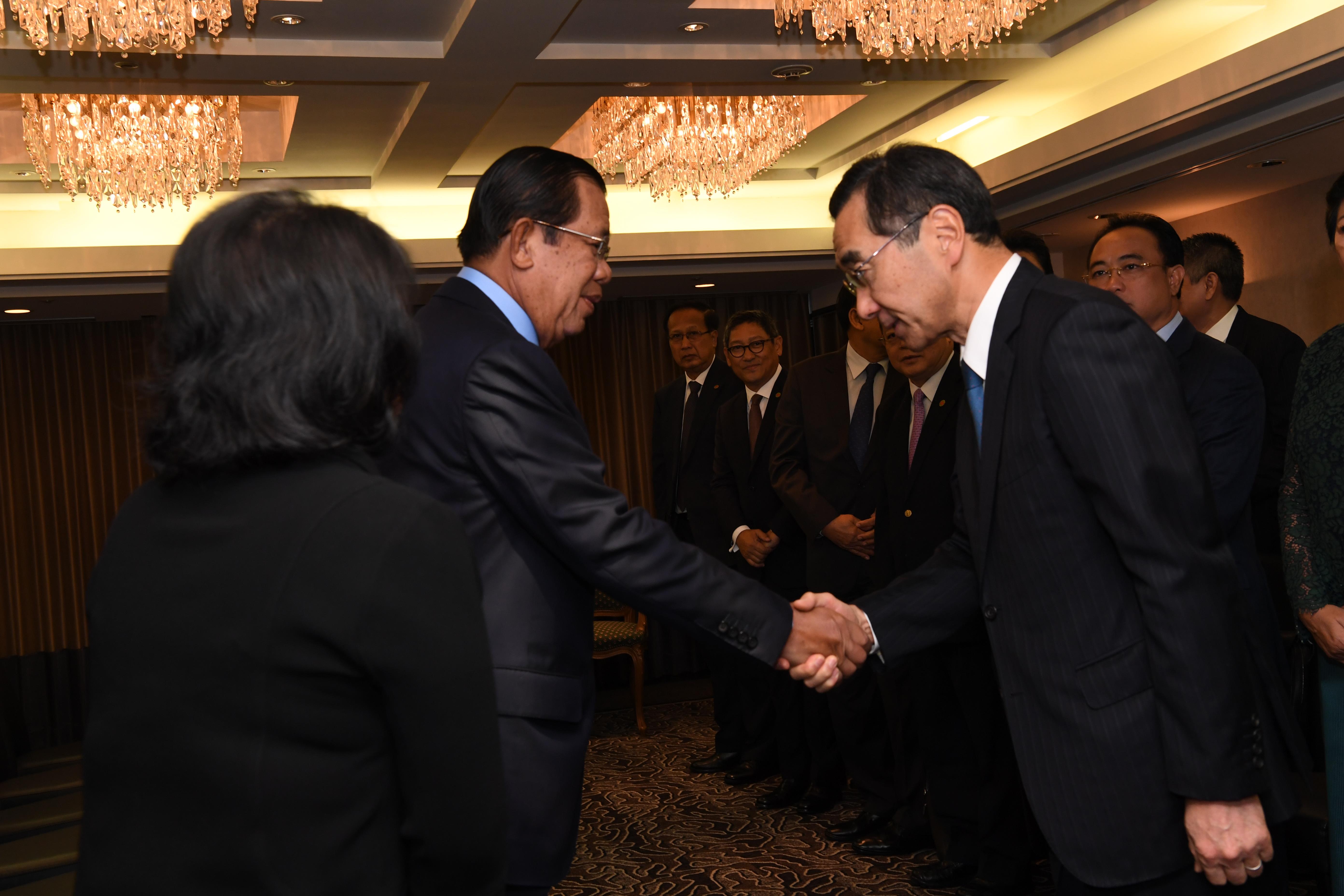 At 9 a.m, he received a courtesy call from Seiji Imai, Senior Managing Executive Officer, Head of Global Corporate Company, Mizuho Financial Group, Inc. The Premier urged the bank to continue to provide loans to companies investing in Cambodia, especially the companies that produce and process Cambodia's raw materials for exports to Japan. He highlighted that he wanted to see more Cambodian products exported to Japan, particularly to see bilateral trade between the two rises from USD 2 billion to USD 5 billion.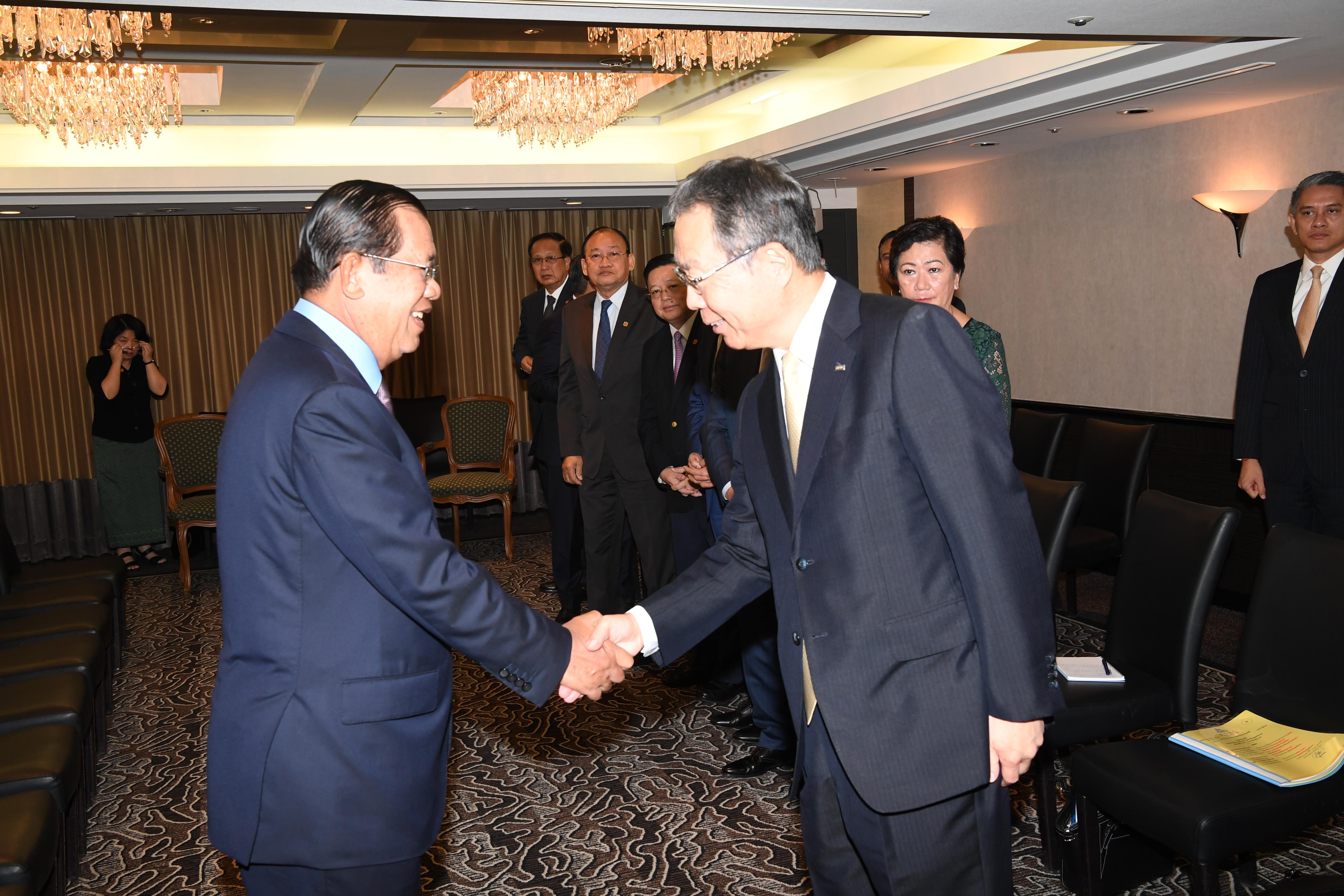 At 9:30 a.m Cambodian Prime Minister Hun Sen delivered his speech at the Cambodia Investment Seminar. The Premier extended the warmest welcome to Japanese business people and investors who are here today to learn more about Cambodia's socio-economic progress, opportunities, investment potential and measures the Royal Government recently introduced to improve the business and investment climate.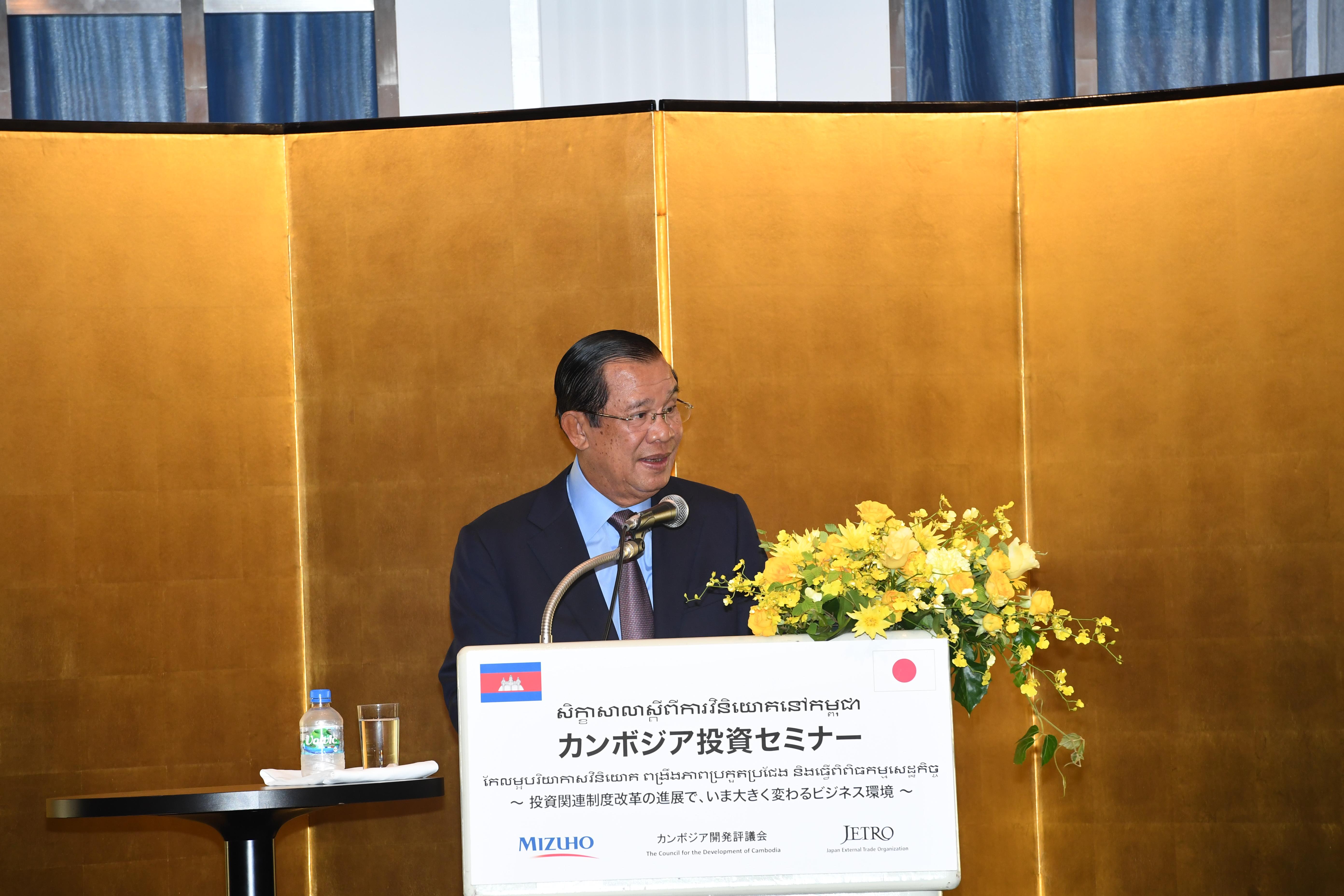 At the Cambodia Investment Seminar, Cambodian Prime Minister Hun Sen introduced to foreign investors, particularly the Japanese, the specific reform measures that will help reduce the cost of doing business by an estimated $400 million a year.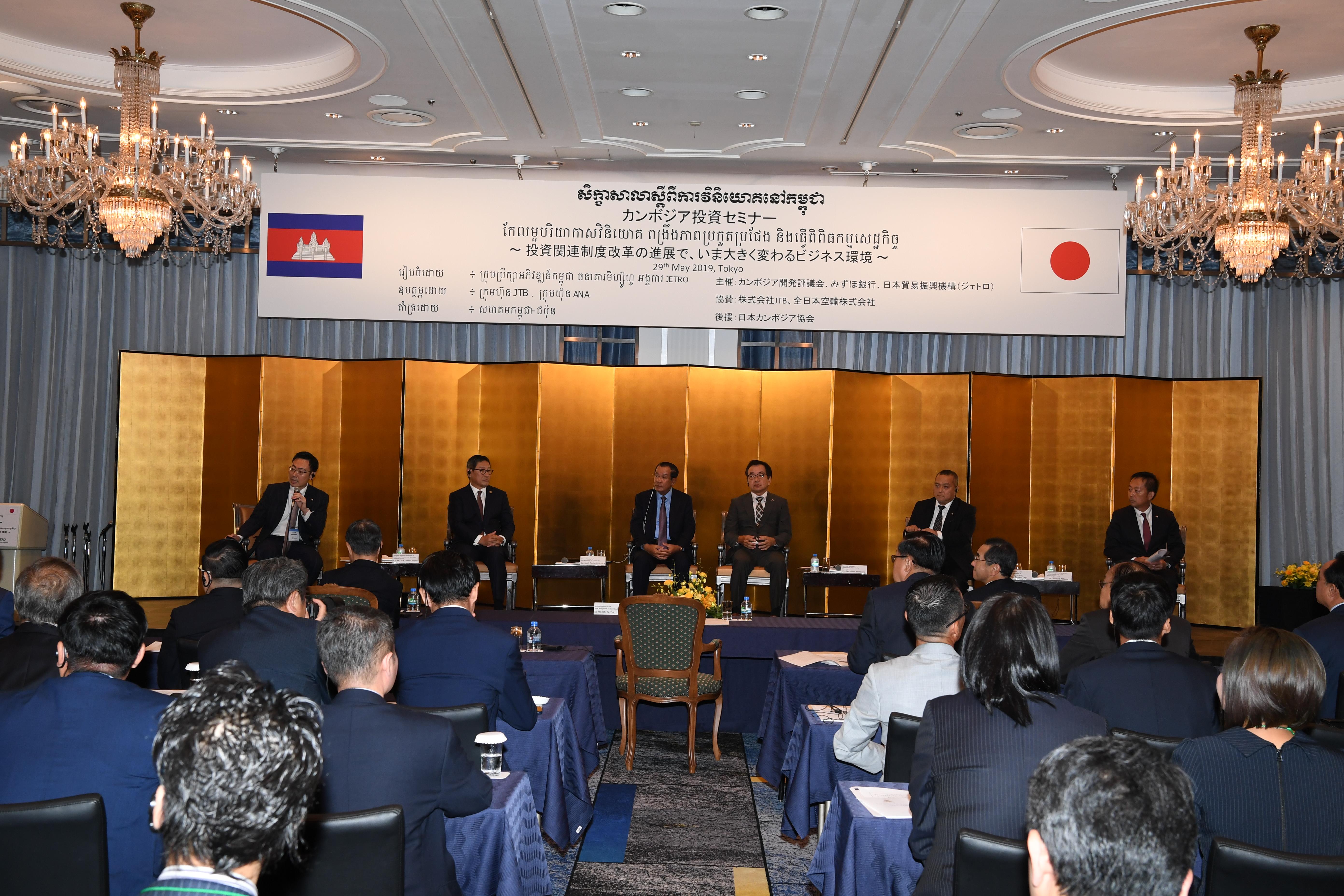 Prime Minister announced through his Facebook the decision to eliminate the one percent minimum tax as a gift for international investors.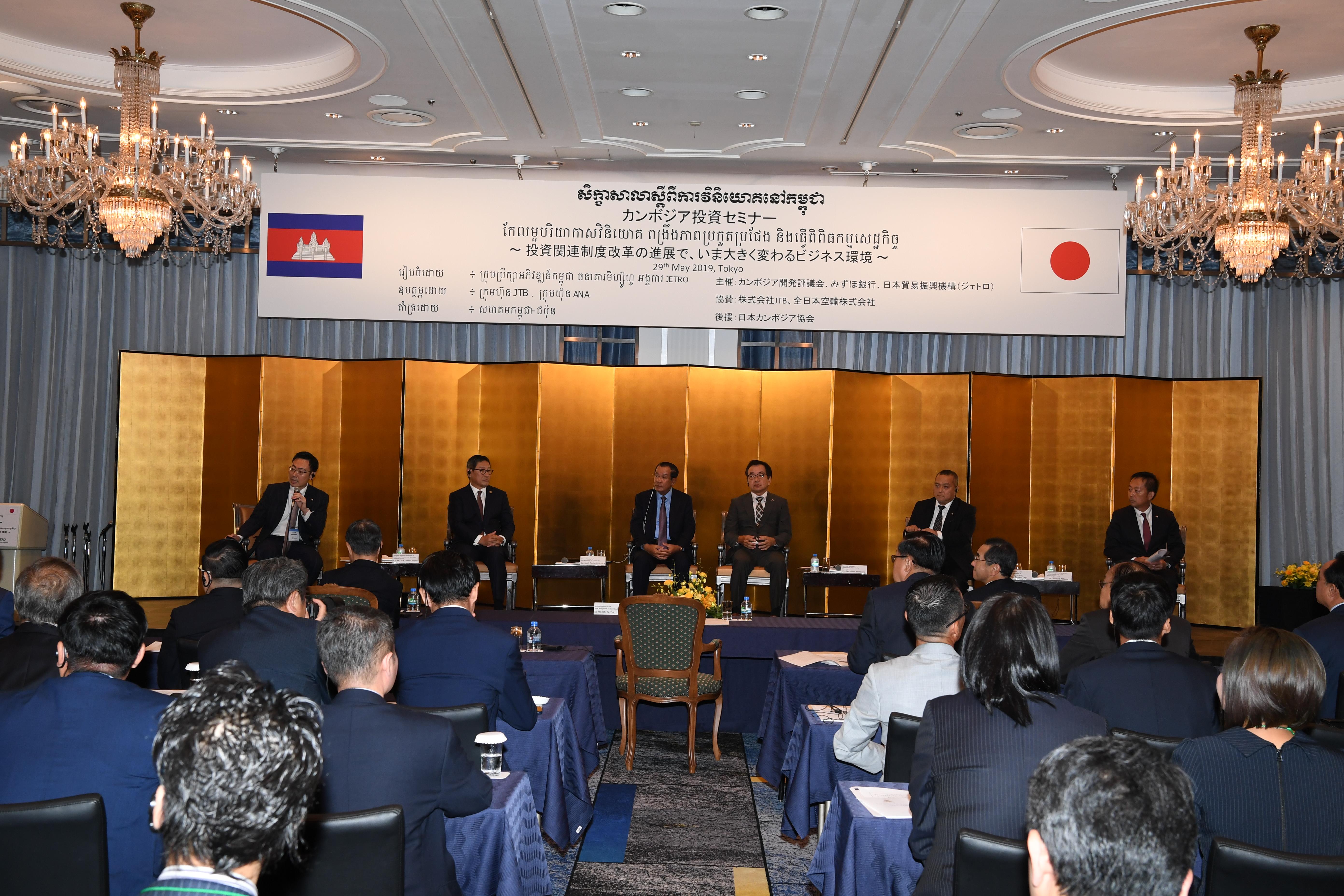 During the lunch, Prime Minister Hun Sen and his delegation were welcomed by Japan-Cambodia Parliamentary Friendship Association President Masahiro Imamura. The President expressed deep support for peace, political stability, and development in Cambodia; and pledged to encourage more Japanese investors to the kingdom to further promote Cambodia's economic development.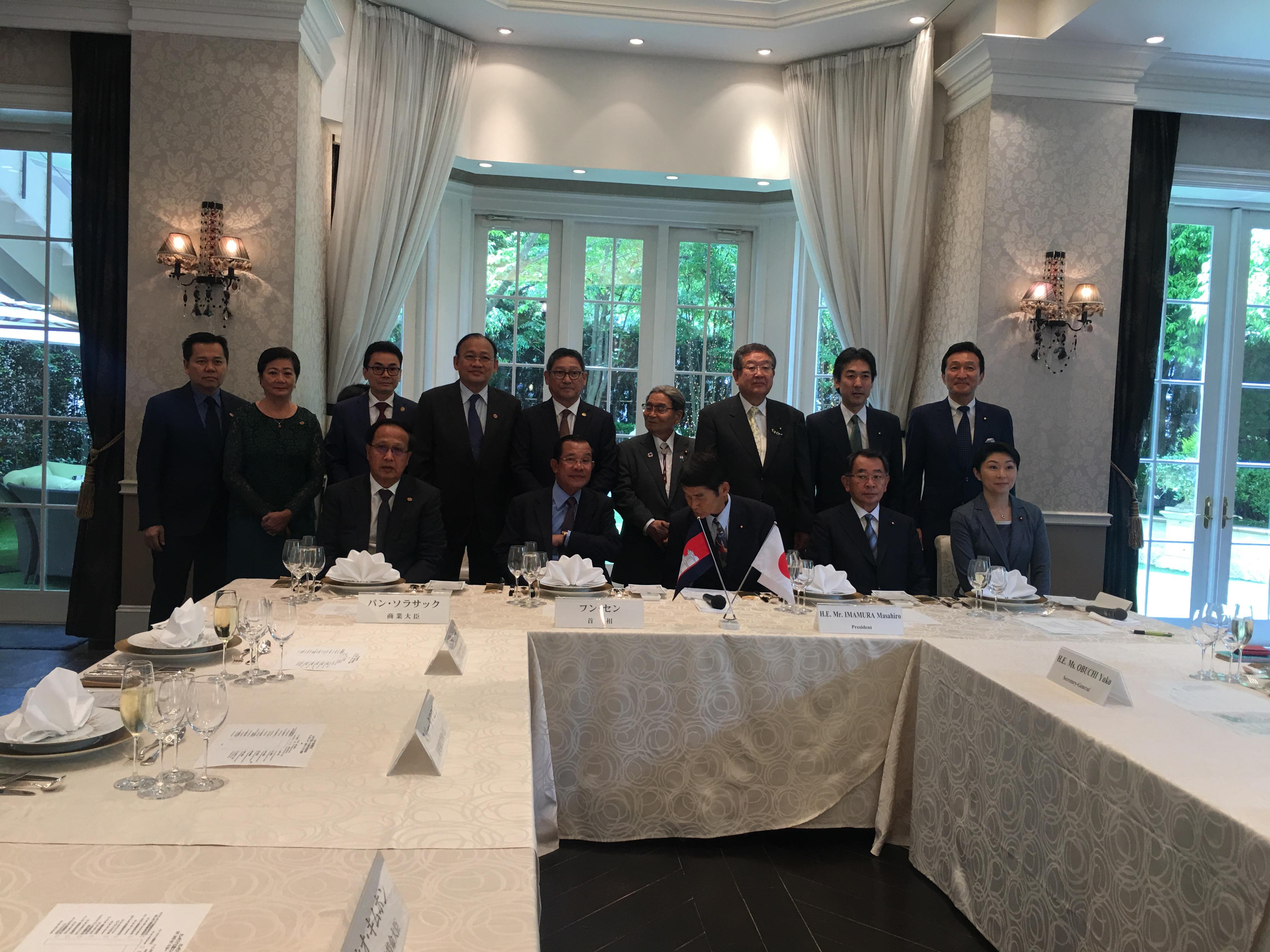 In the evening, he received a courtesy call from Takahashi Fumiaki, President of Japan-Cambodia Association and former Japanese Ambassador to Cambodia. Strongman Hun Sen asked Takahashi to convey to the United States that Cambodia does not want to be enemy to any country, yet always want to be friend with all countries, including the United States. Cambodia requires respect on our independence and sovereignty.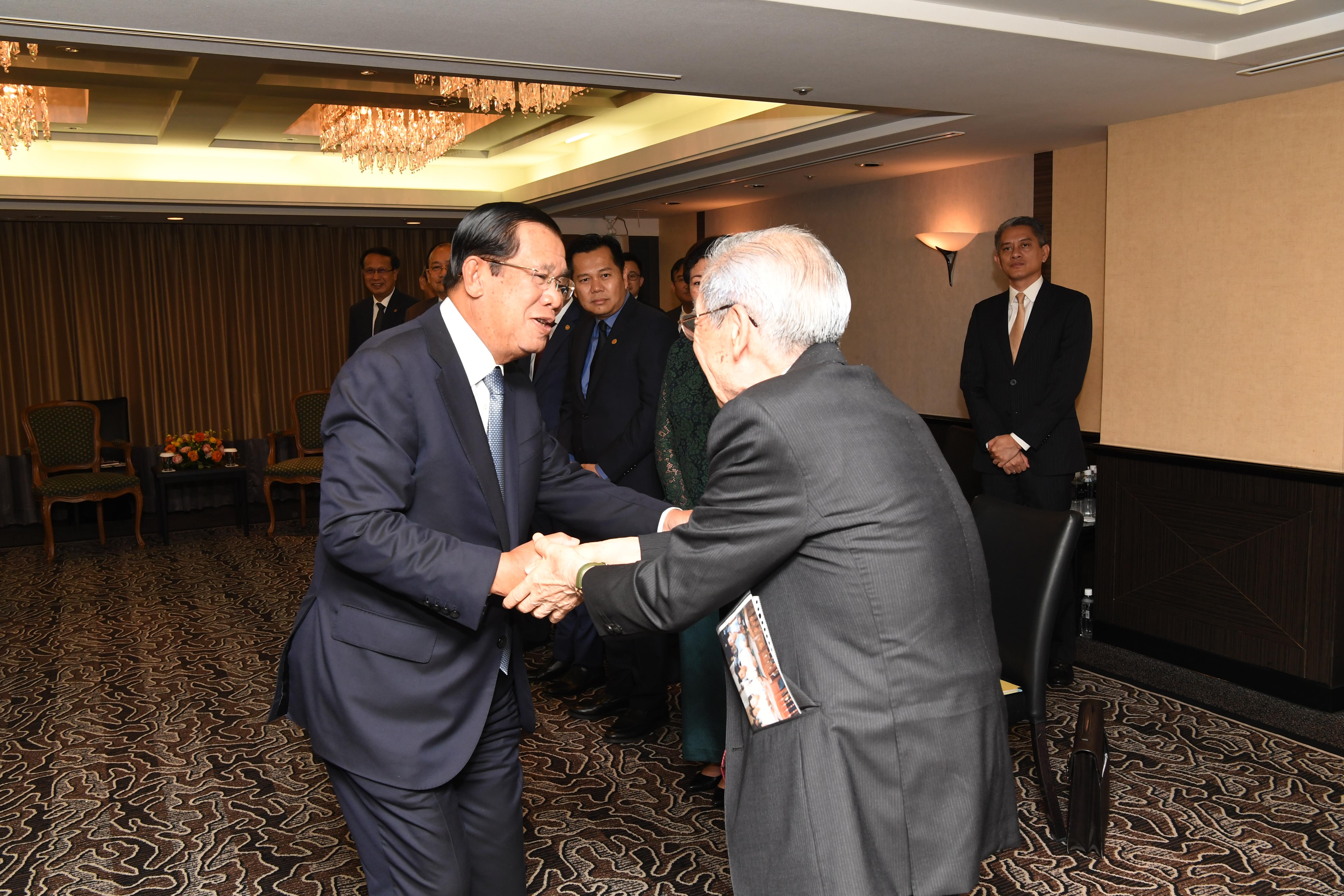 He emphasized it is wrong to think that Cambodia is turning away from the United States and tilting towards China.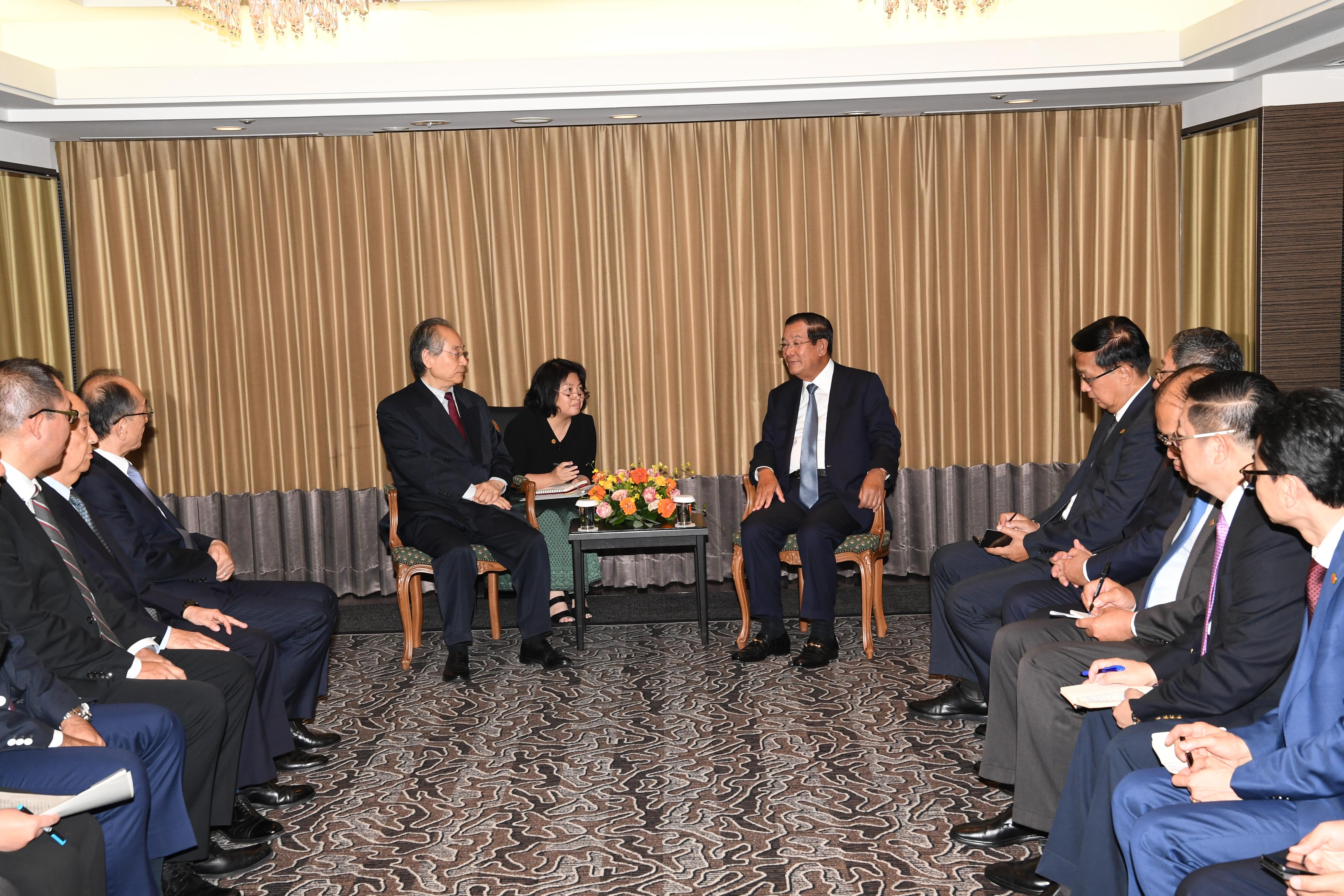 At 5:30, he met with President of Japan's International Friendship Exchange Council (FEC) Ken Matsuzawa and six other Japanese companies' representatives. Ken Matsuzawa committed to encourage more Japanese investors to Cambodia and help to improve human resources in Cambodia.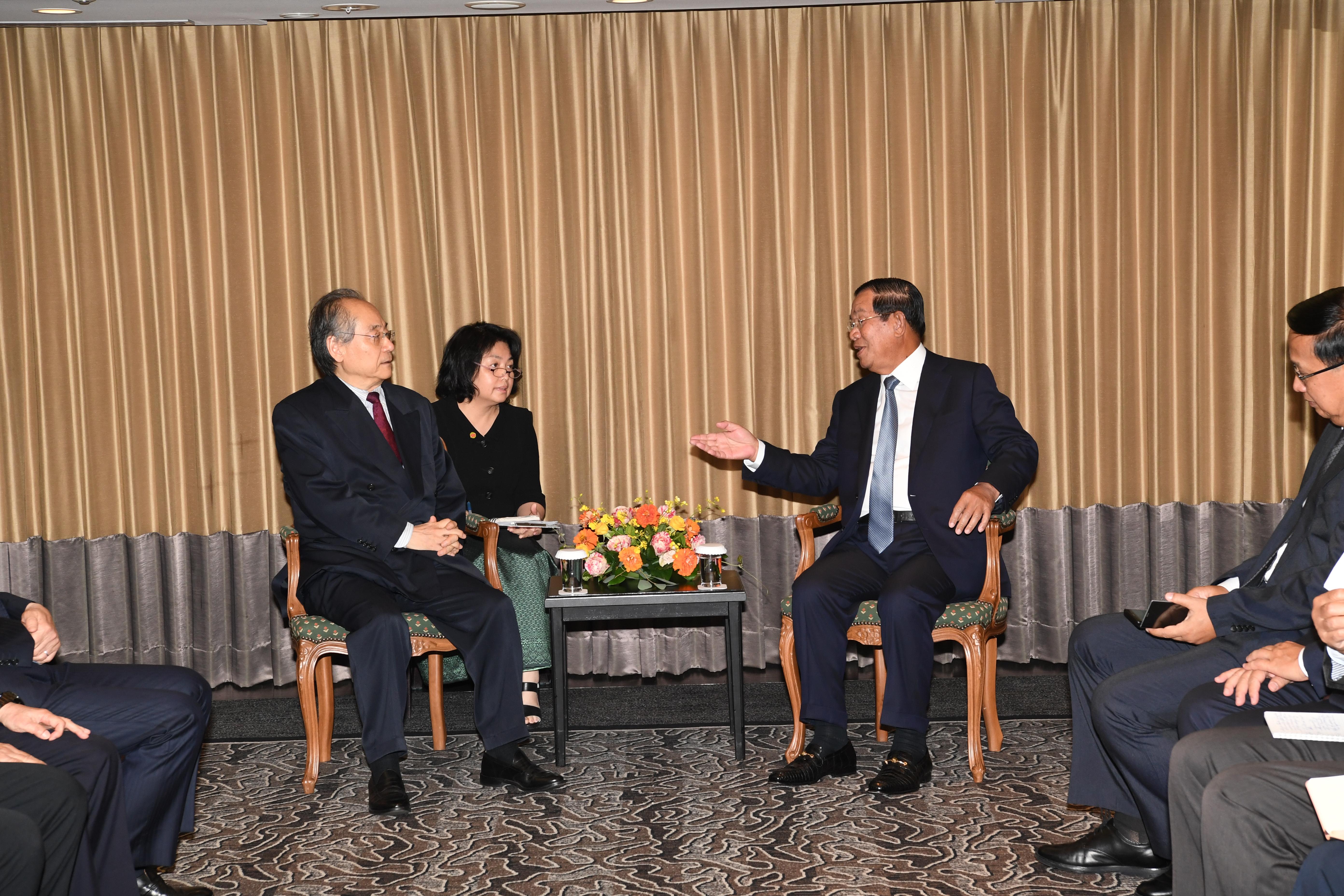 On 30 May 2019, before attending the 25th International Conference on the Future of Asia, the Premier met with President and CEO of Nikkei, Naotoshi Okada. The President commended the wise leadership of Prime Minister for ensuring peace and development for the kingdom through political and macroeconomic stability.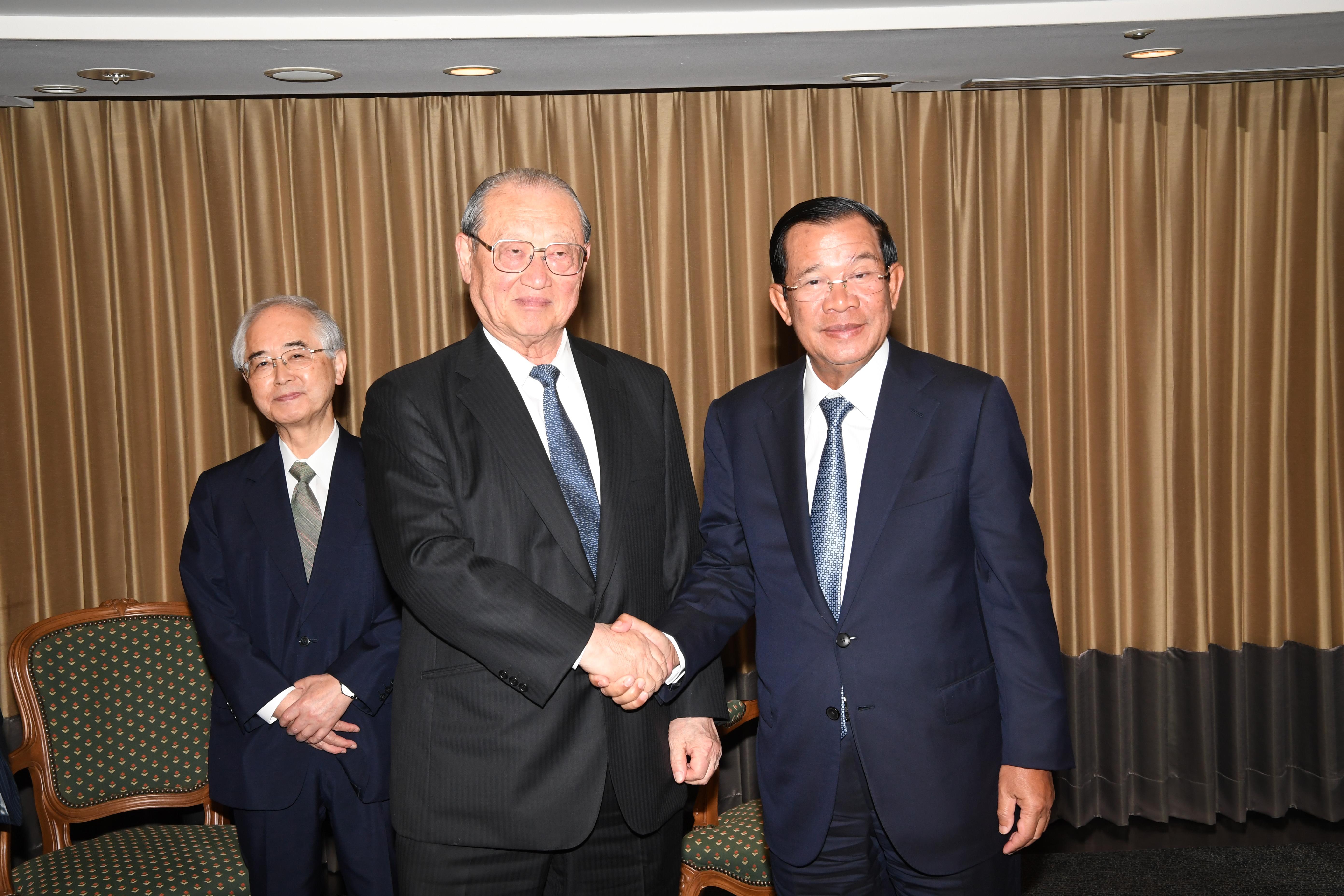 Strongman Hun Sen addressed on 30 May at the 25th International Conference on the Future of Asia. Before 300 Japanese investors, he said the kingdom's past and future growth could not be dissociated from the support of Japan.
Prime Minister Hun Sen reaffirmed that the kingdom will continue the legal procedures against the banned politicians and traitors, referring to former members of the dissolved CNRP.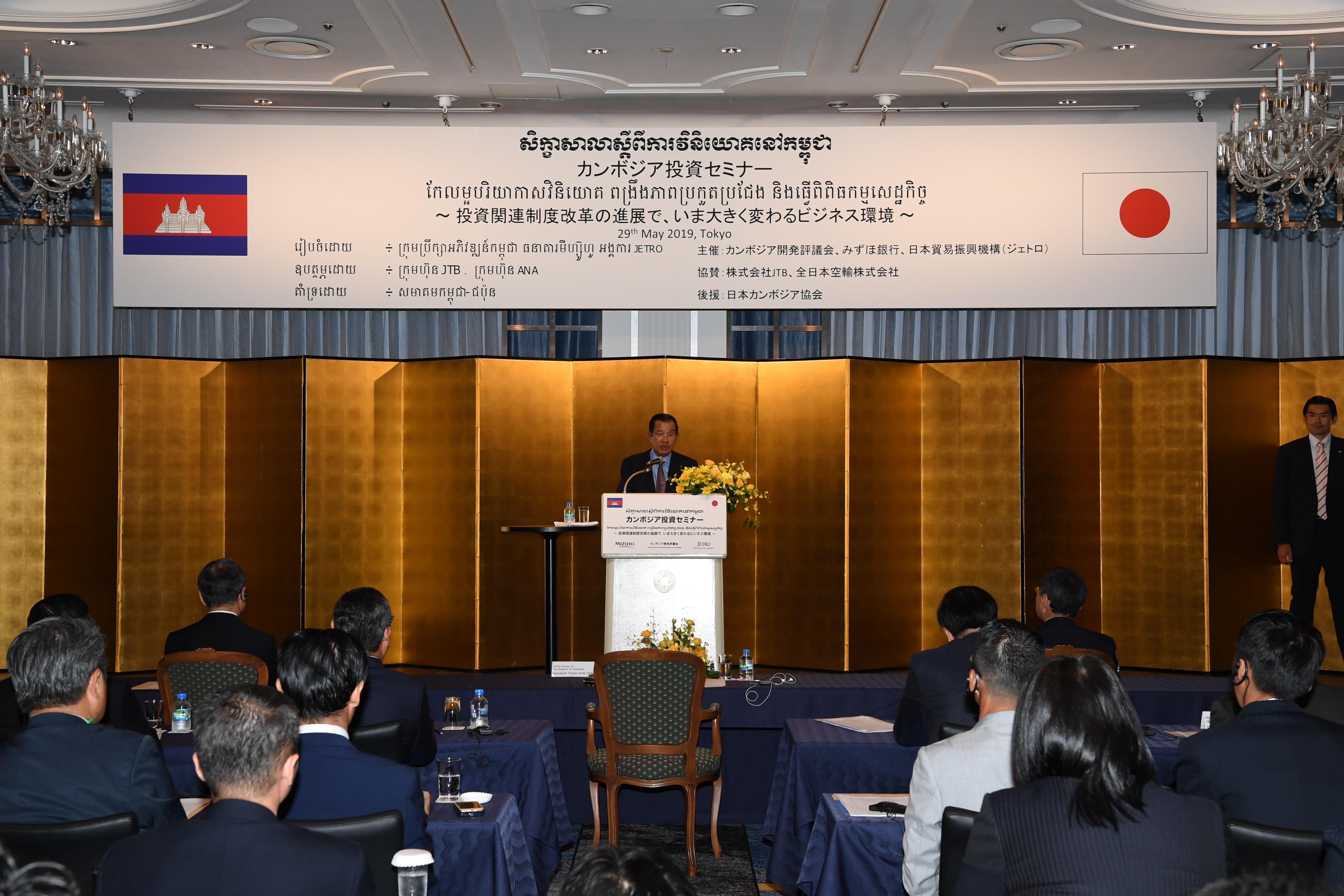 He urged that all countries, including Cambodia, shall not become a grass or ant for the elephant to step on.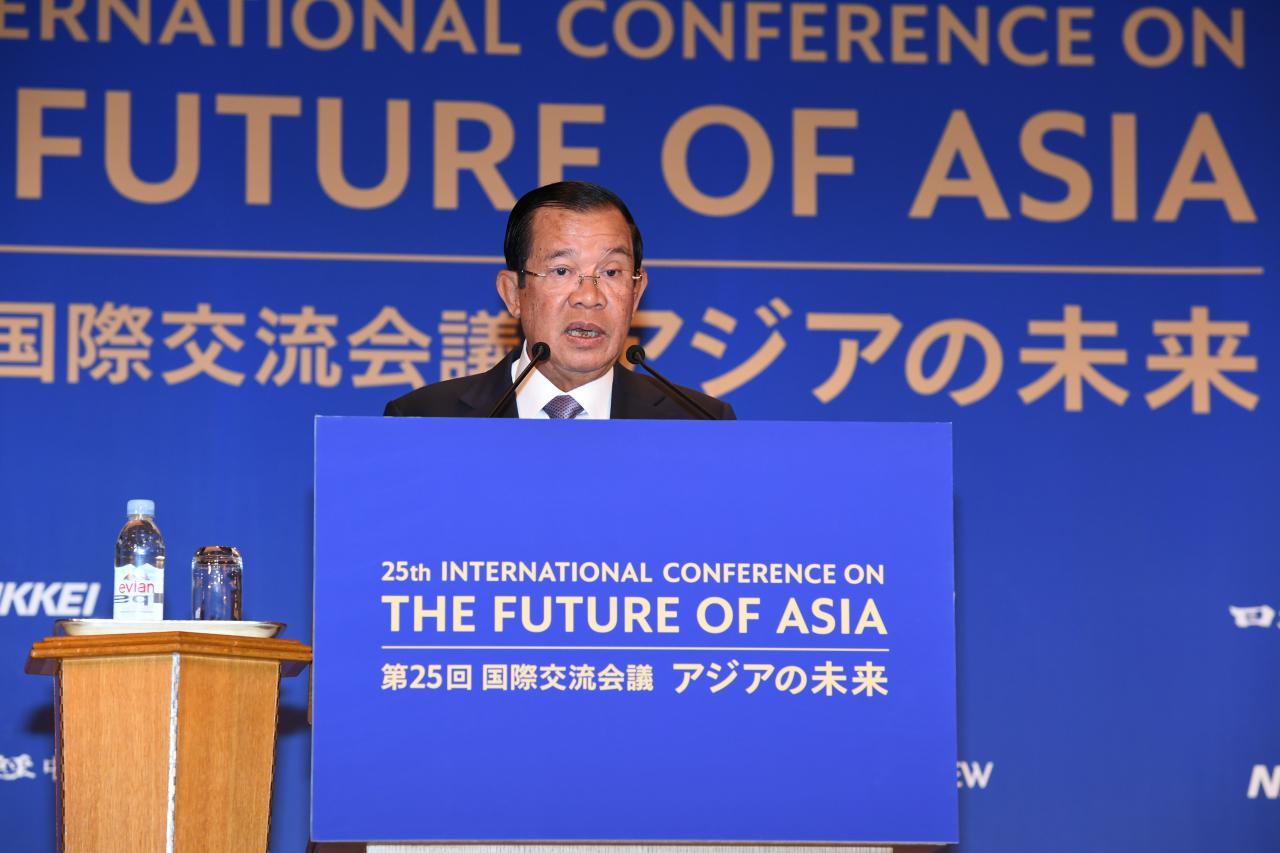 In response to the question: "Will Cambodia fall into China's BRI debt trap," the Premier stated that as a sovereign nation, we have the right to make whatever choices we want and receive the loans if necessary.
"Some countries owe debts up to 200%, to 300%, or 500% of their GDP, which is not solely to China but to other countries. The Kingdom will never let herself drown in such debt," he stated.
"Cambodia will not fall into the debt trap for three reasons: (1) it is the sole decision of Cambodia to borrow, not coerced by China; (2) Cambodia borrows in the concessional loan and long-term rates; and (3) Cambodia is highly cautious; we are sure that the debt rate will not be higher than GDP," Prime Minister underlined.
Cambodia borrows in concessional loan rate not only from China, but also Japan, and other financial institutions, the Premier elaborated.
He also took the opportunity to share four views concerning the theme "Seeking a New Global Order – Overcoming the Chaos as follows: first, institutional arrangement and global governing rule restructuring based on core principles and global values; secondly, strengthening cooperation in the context of globalization; thirdly, respecting each country's sovereignty and way of governing; and lastly, building and keeping peace and security.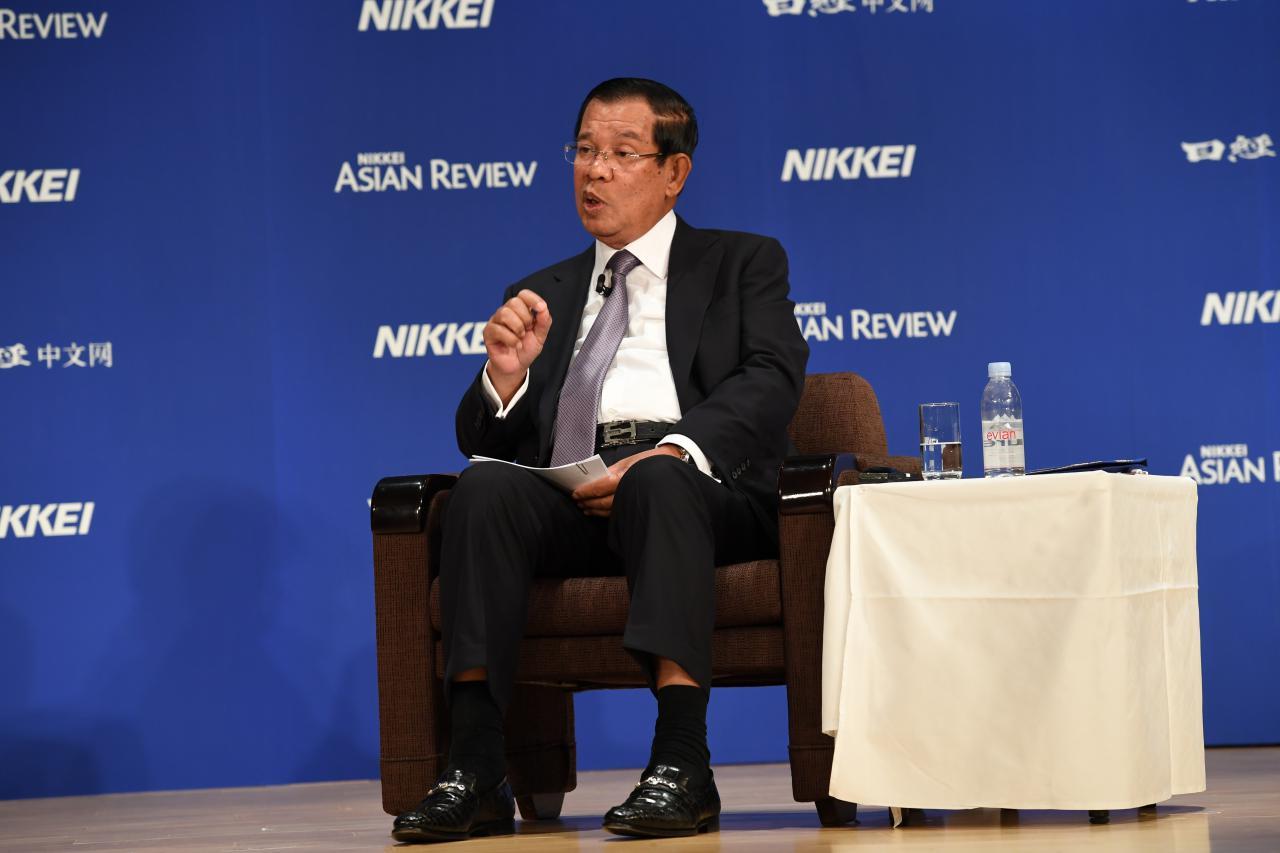 At 4 p.m, he met with Nobuyushi Fujisawa, President of J Trust Bank, and announced that ANZ will change its name to "J Trust" in August 2019.
Then he met with Yoshihisa Kainuma, President and CEO of Minebea Mitsumi Inc., an electronic manufacturer in Cambodia, which announced to donate 5,000 automatic light bulbs on the streets of Phnom Penh and 2,000 in Siem Reap.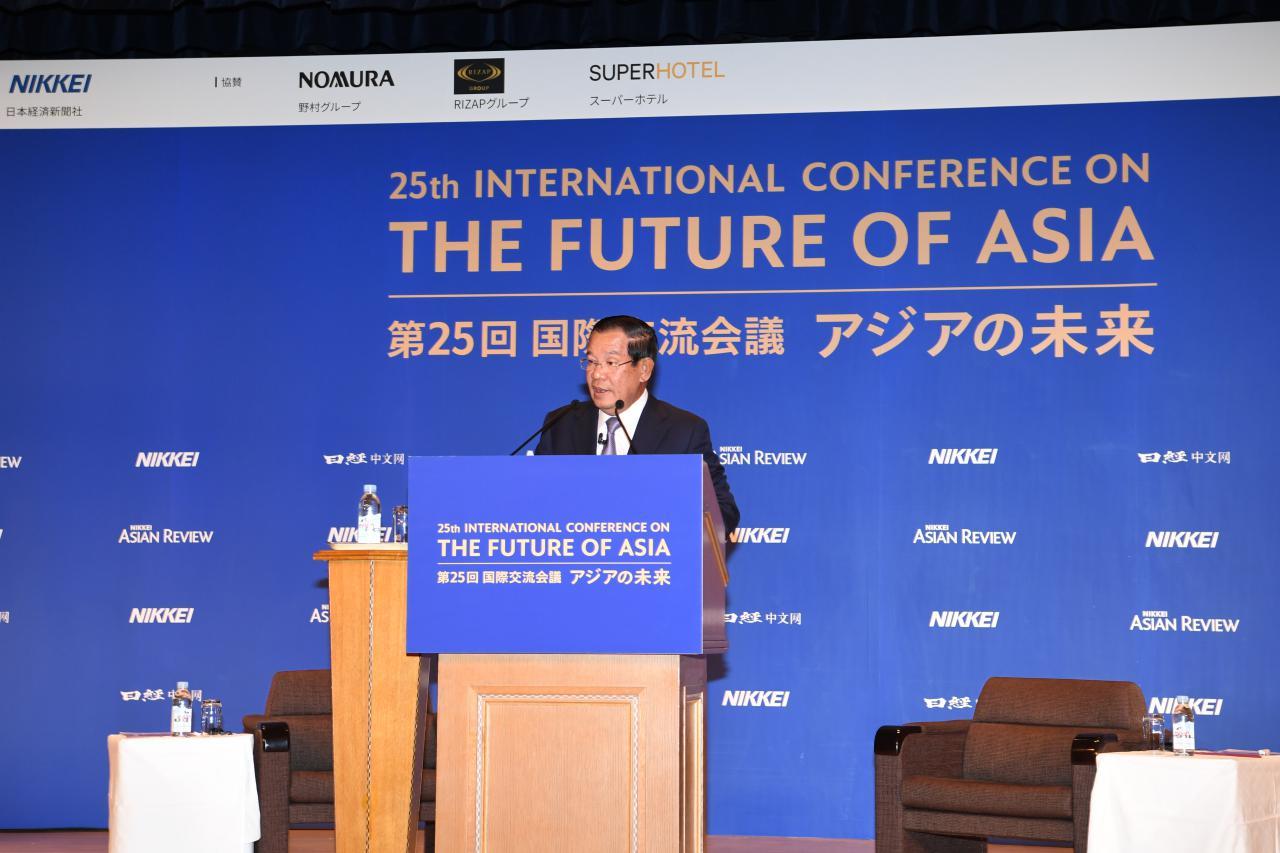 At night, he attended the dinner reception of the 25th International Conference on Future of Asia.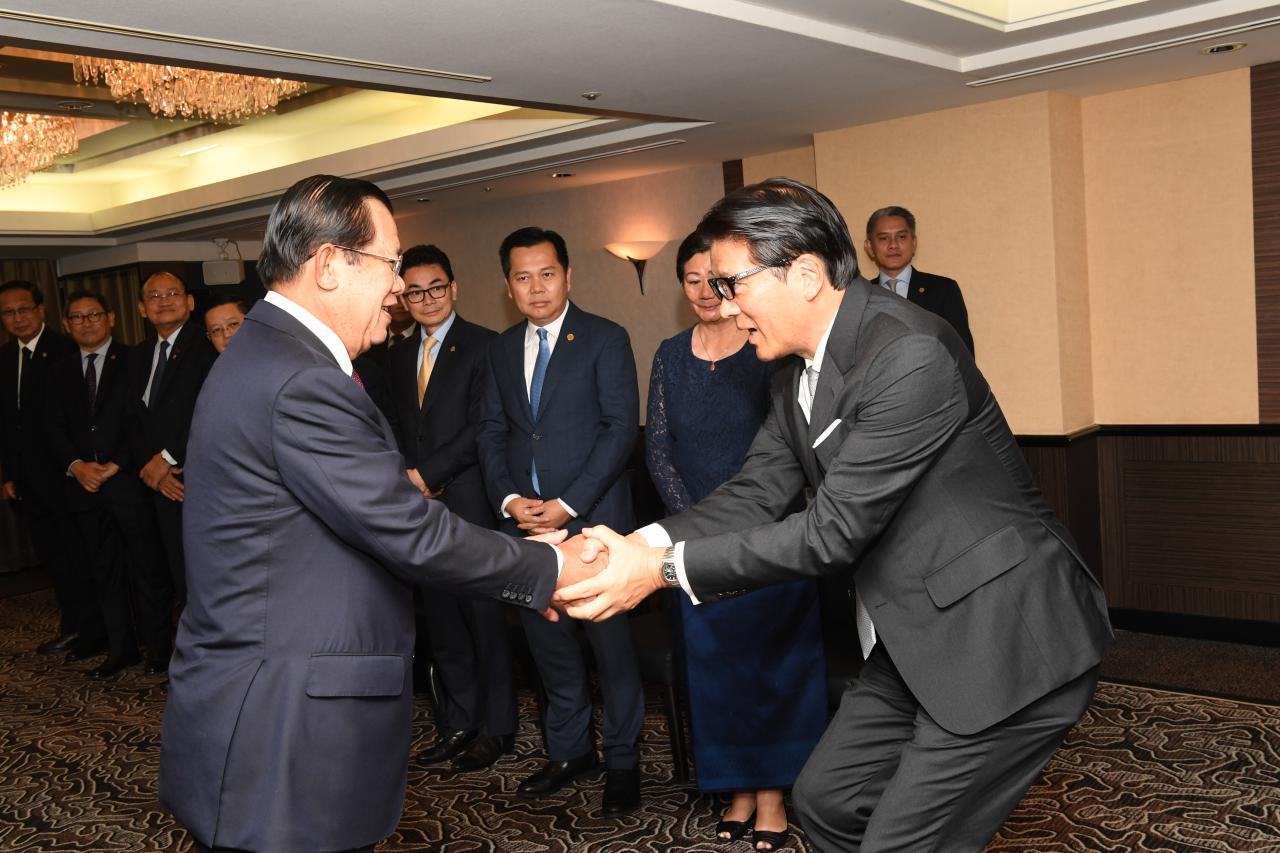 President and CEO of Minebea Mitsumi Inc. reported to Abe their operations in Cambodia before the Premier.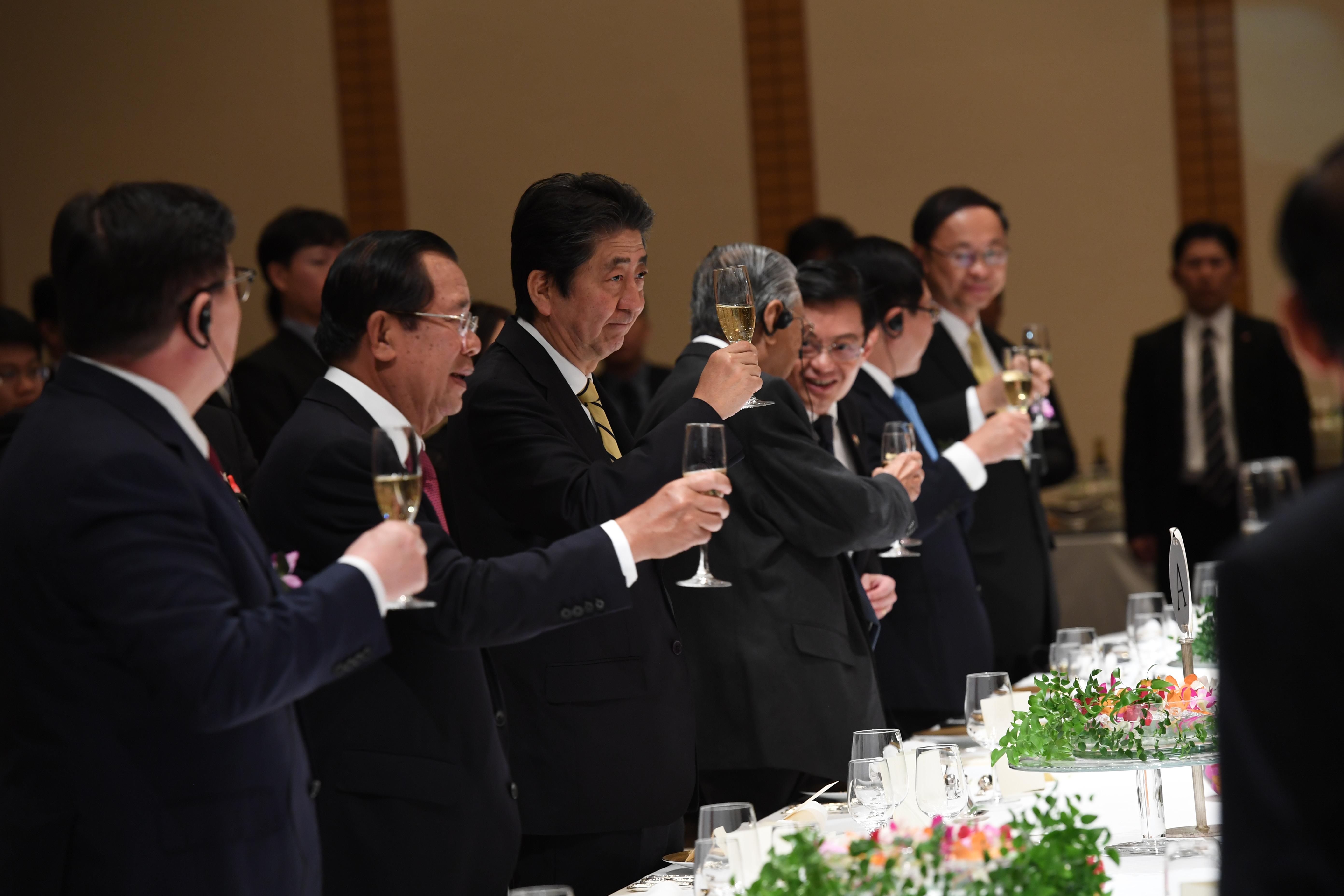 In the morning of 31 May, before departure to Phnom Penh, Prime Minister Hun Sen held bilateral meeting with Japanese Prime Minister Abe to discuss various bilateral, regional, and international issues of common interests.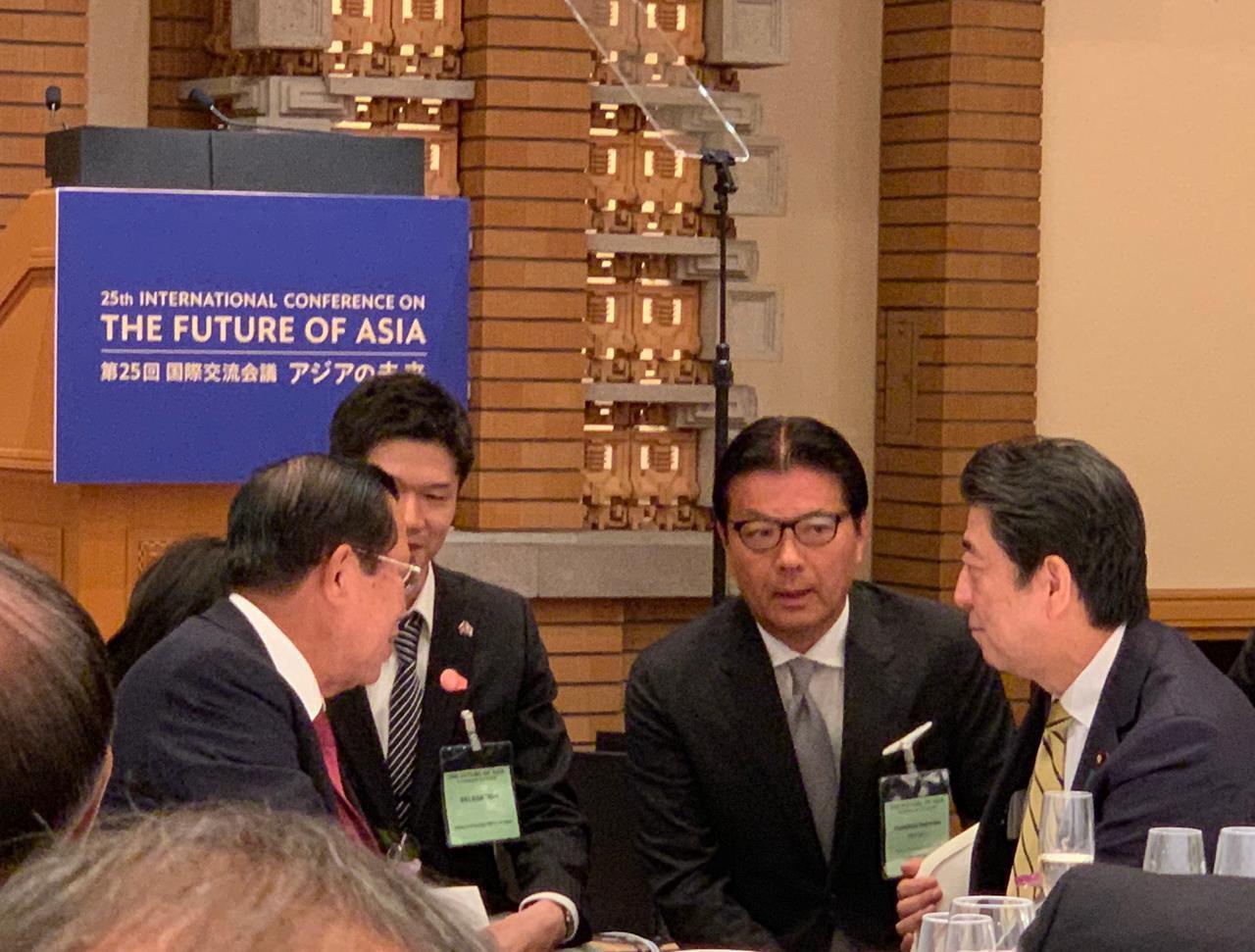 Prime Minister Hun Sen urged the Japanese Prime Minister Shinzo Abe to encourage more Japanese investors to Cambodia.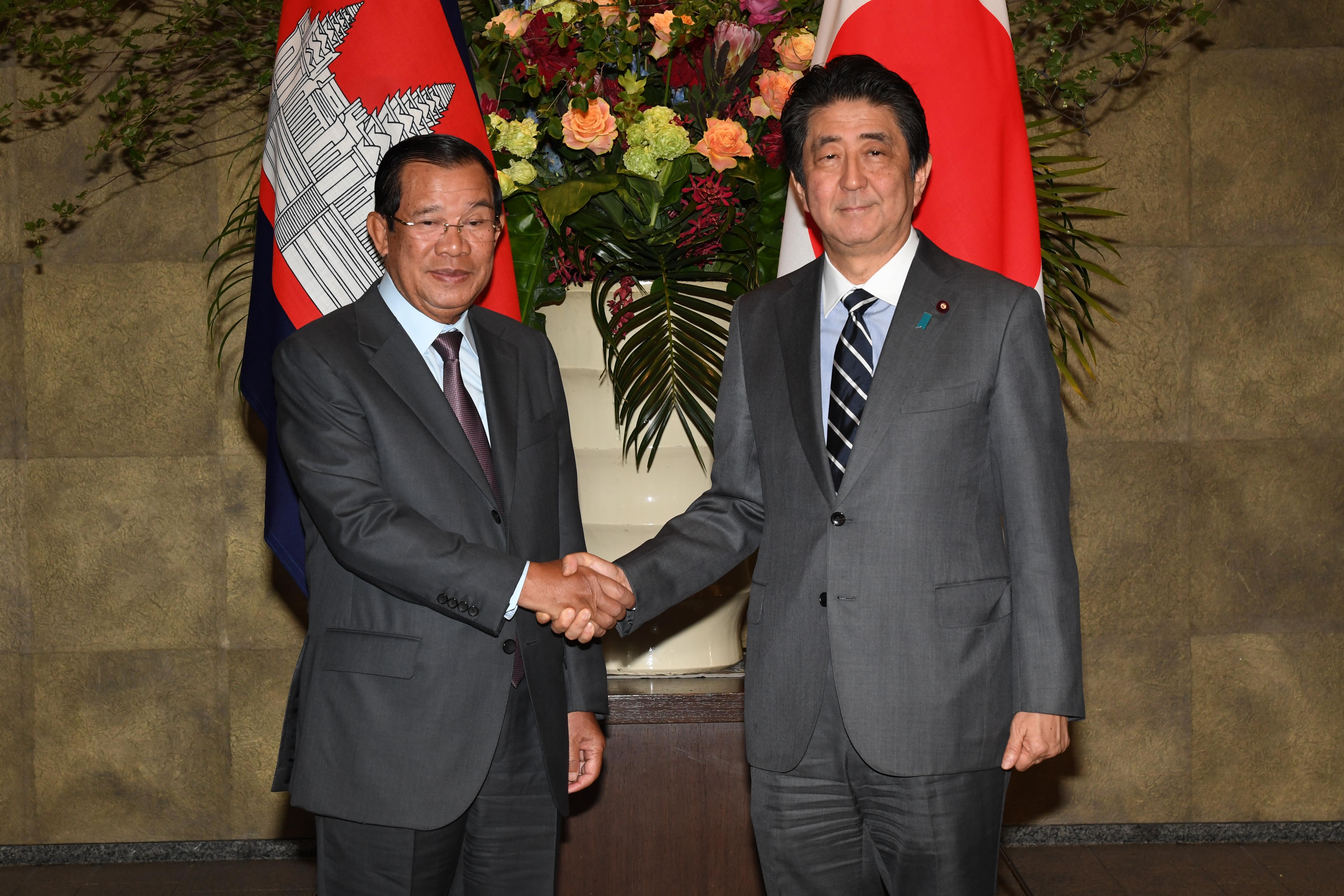 Japanese Prime Minister welcomed the measures taken by Cambodian Prime Minister Hun Sen to reduce costs of inputs that create enabling environment for investment.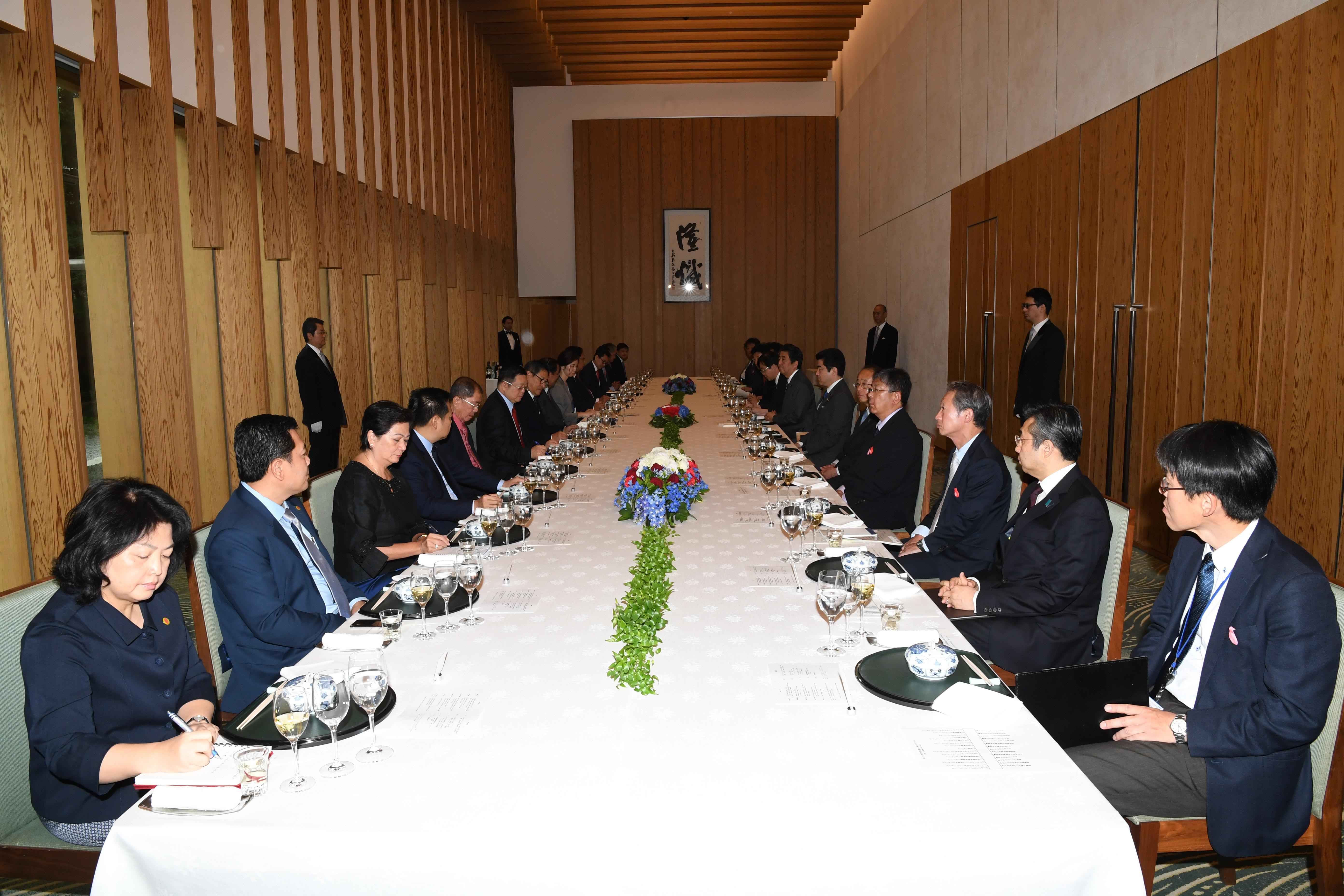 Abe also highlighted Japan's interest on port development in Sihanoukville, and cooperation with Cambodia to study the Master Plan on Port through talks between JICA and port authority in Sihanoukville.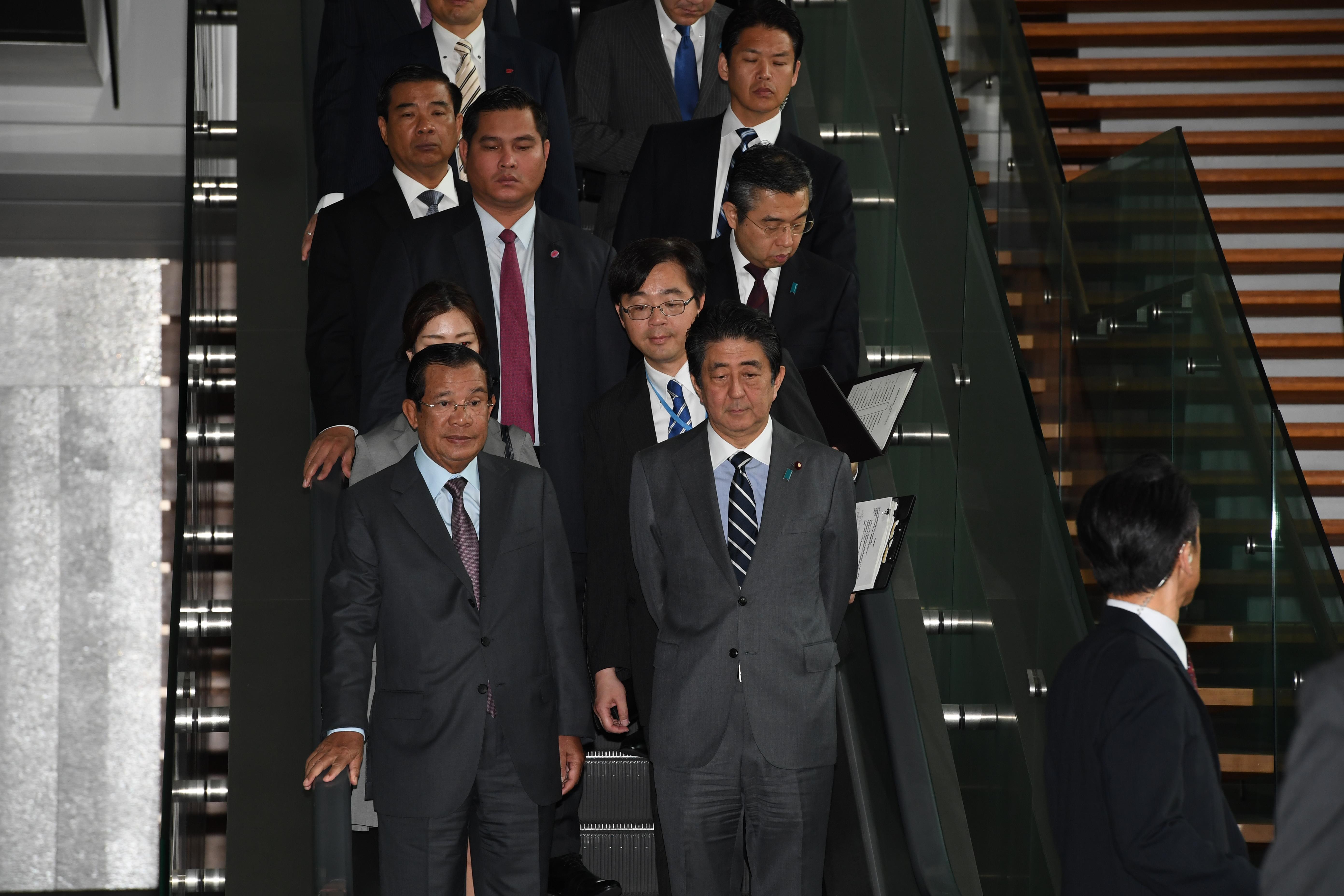 Shinzo Abe pledged to assist Cambodia's development and democracy.
Prime Minister Hun Sen urged Japan to continue assisting on demining sector in Cambodia, in particular to provide financial assistance to CMAC to carry out demining activities in three major provinces, including Battambang, Pailin, and Pursat, as mines continued to plague development in those areas.
Between 1992 and 2018, Japan provided the equivalent of more than $2.8 billion in Official Development Assistance (ODA) to Cambodia – about 15 percent of total financing by all development partners. Japan has supported major infrastructure projects – building the Kizuna Bridge and the Tsubasa Bridge, improving National Roads No. 1 and 5, developing a new container terminal at Sihanoukville Autonomous Port, and improving flood protection and drainage in Phnom Penh.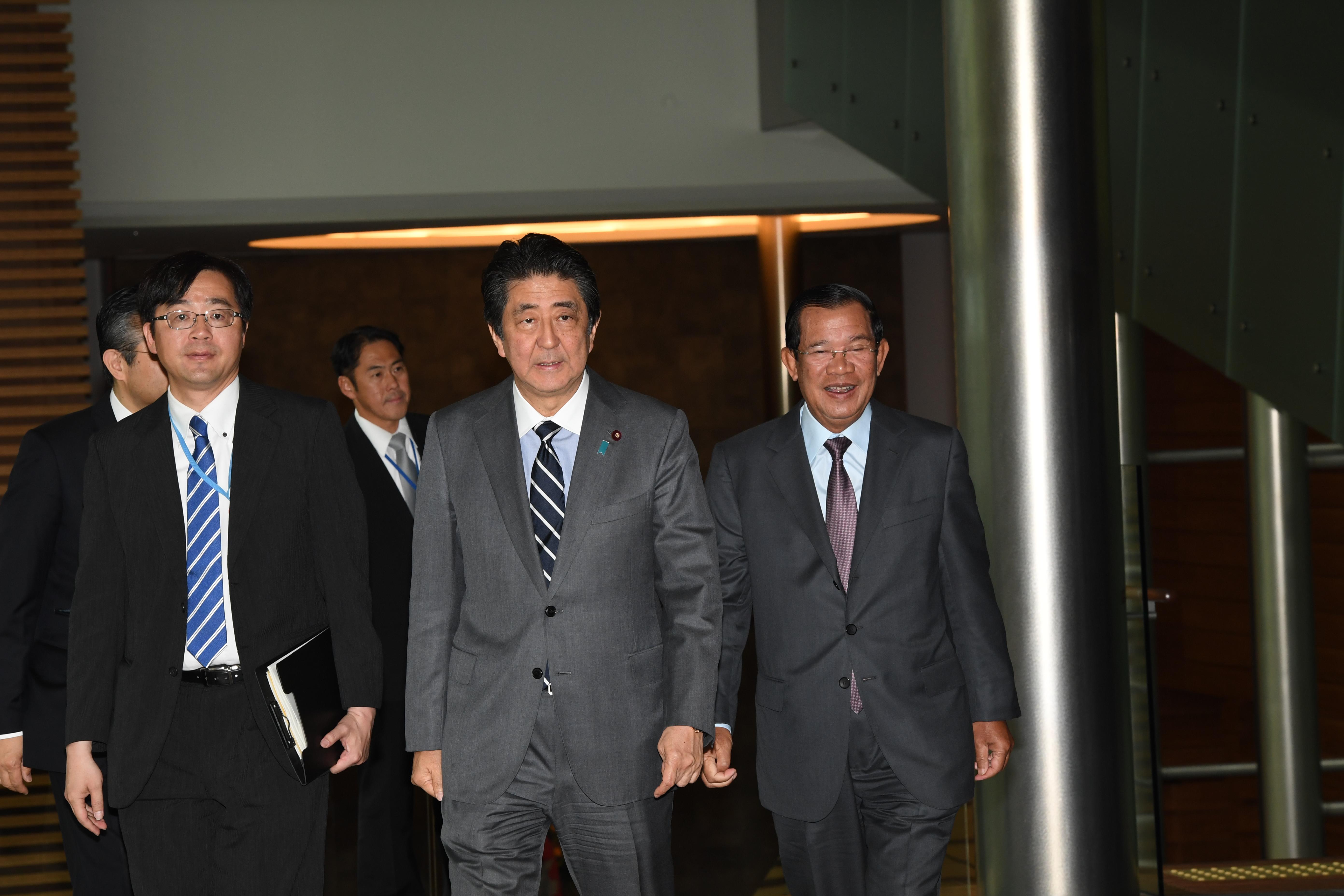 Both leaders expressed views that DPRK's nuclear test is a repeated violation of the relevant United Nations Security Council (UNSC) Resolutions and poses serious threat to peace, security and stability in the Korean Peninsula, and in this region as a whole.
Cambodia and Japan urged the DPRK to fully comply with all relevant UNSC Resolutions and its international obligations and to cease all nuclear and missile tests in order to safeguard peace and stability.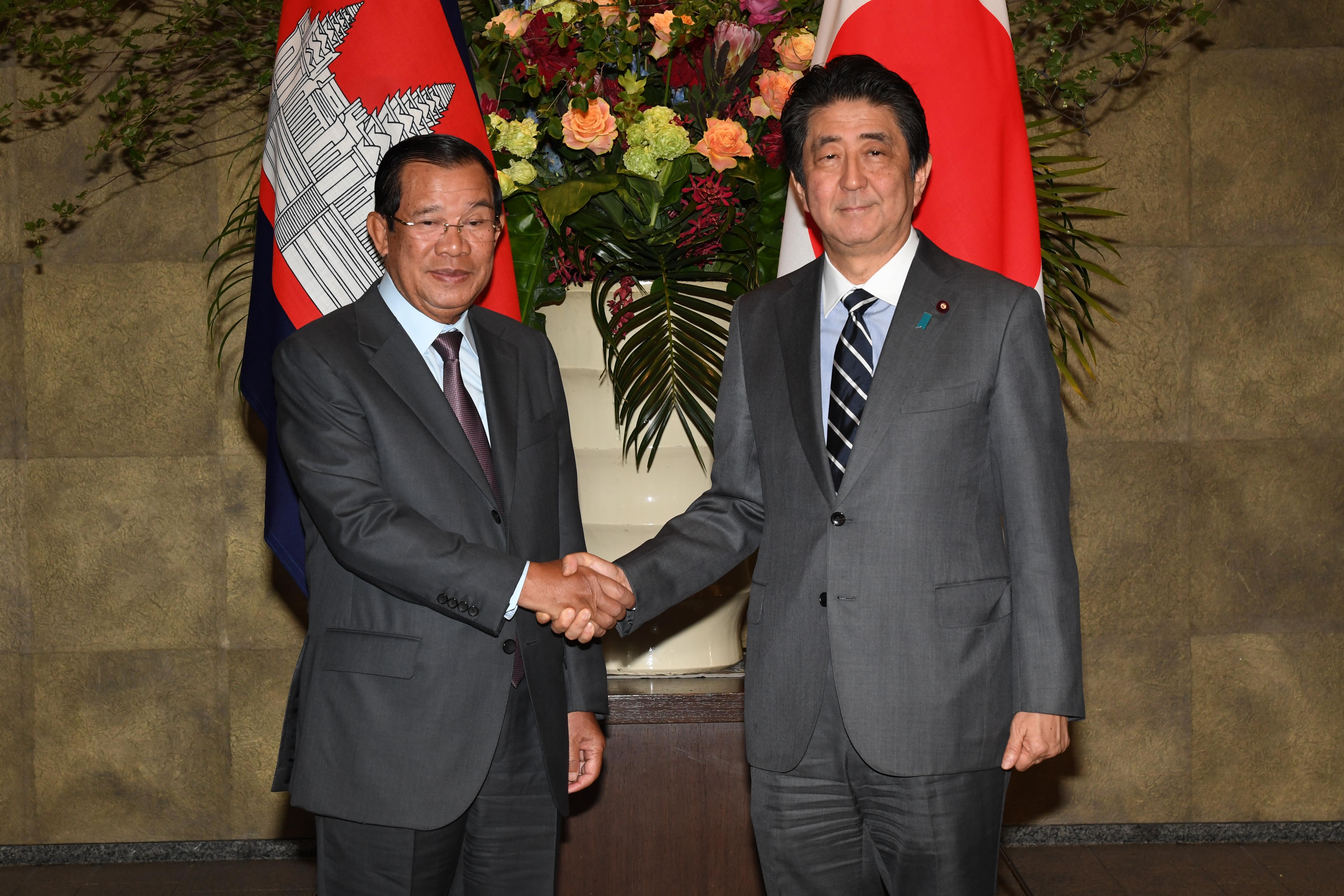 Cambodian Prime Minister Hun Sen requested Japan for assistance to build the 350km electricity transmission lines from Cambodia-Laos border to the capital Phnom Penh. Both Prime Ministers also witnessed the signing of the Exchange of Notes on the Extension of Japanese grant aid for two development projects in Cambodia, including the ¥ 200,000,000 for the Implementation of the Economic and Social Development Programme — Construction of Container Freight Station; and ¥ 339, 000, 000 for the implementation of the Project for Human Resource Development Scholarship.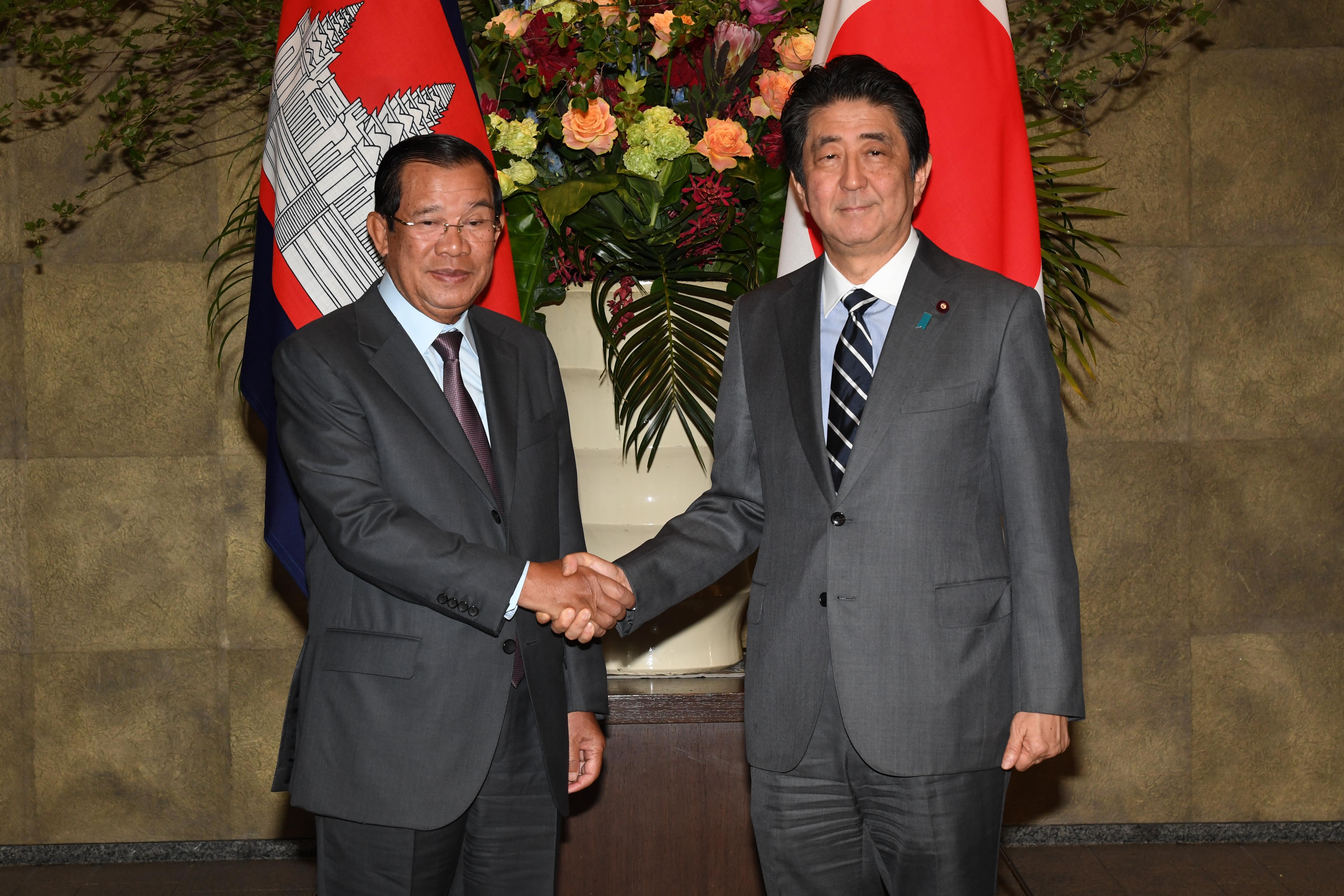 Cambodian Prime Minister Hun Sen arrived Phnom Penh safe at 8:30 p.m after attending the 25th International Conference on the Future of Asia.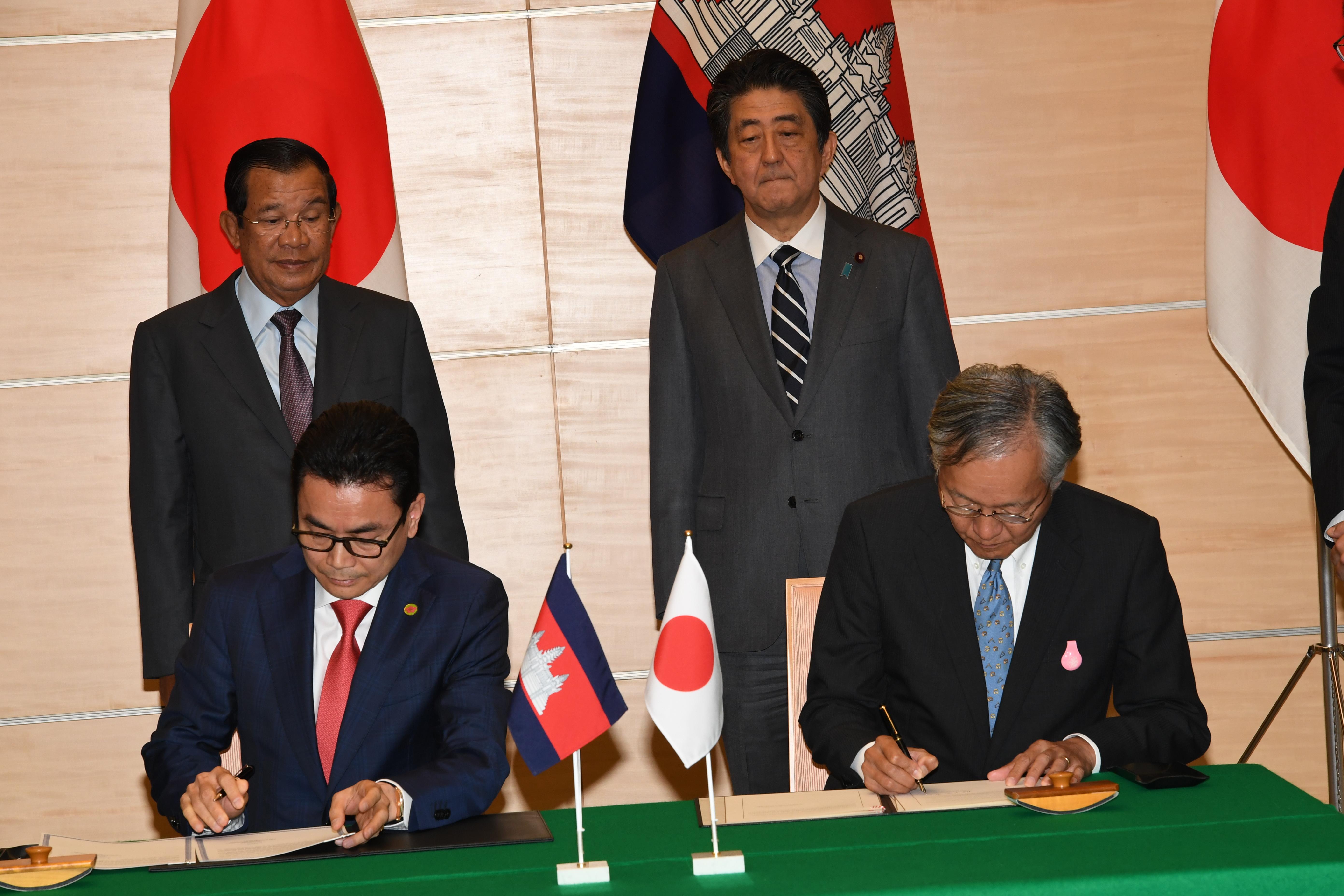 Prime Minister works tirelessly with international development partners and private sectors for the benefits of Cambodian people.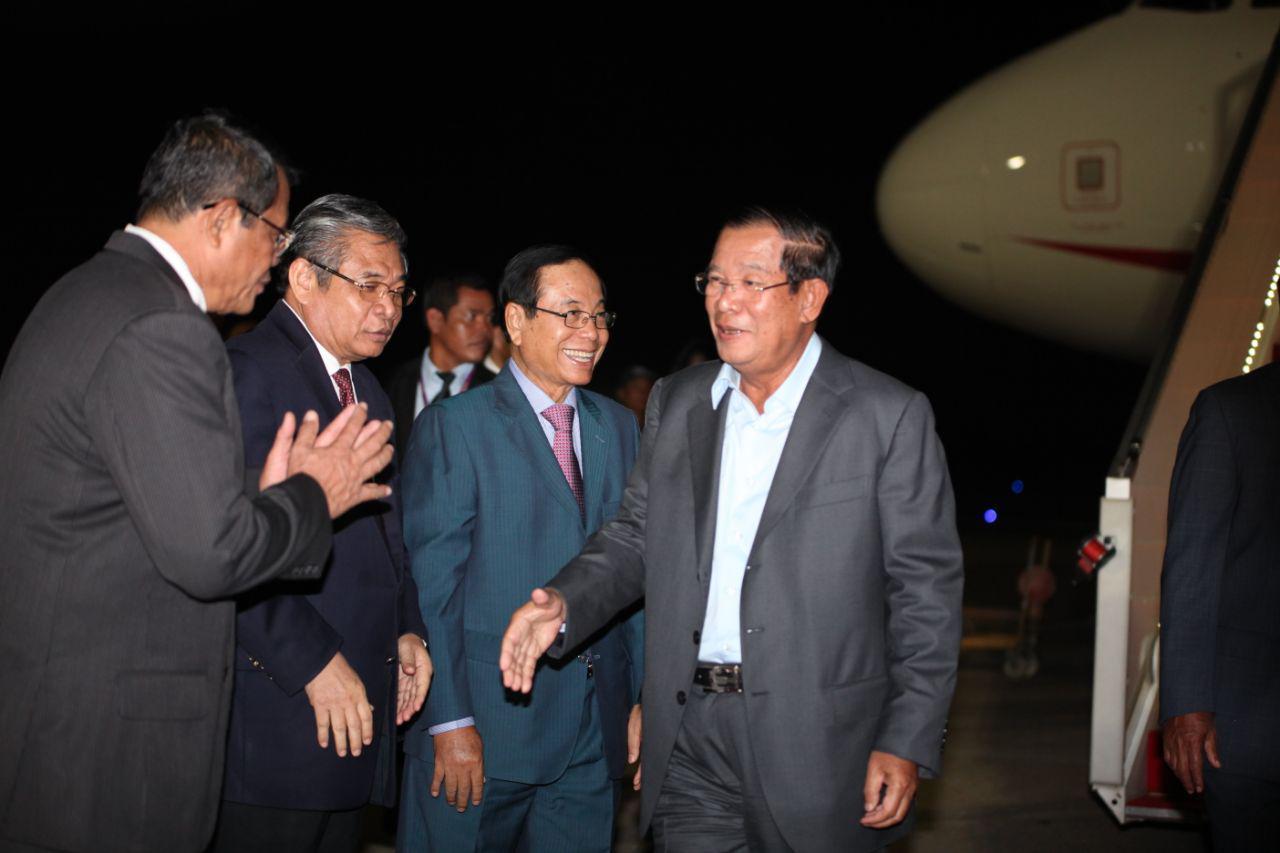 Under the wise leadership of the Royal Government of Cambodia, headed by Prime Minister Hun Sen, Cambodia's economy grows at the rate of 7 percent per annum despite economic threats and sanctions.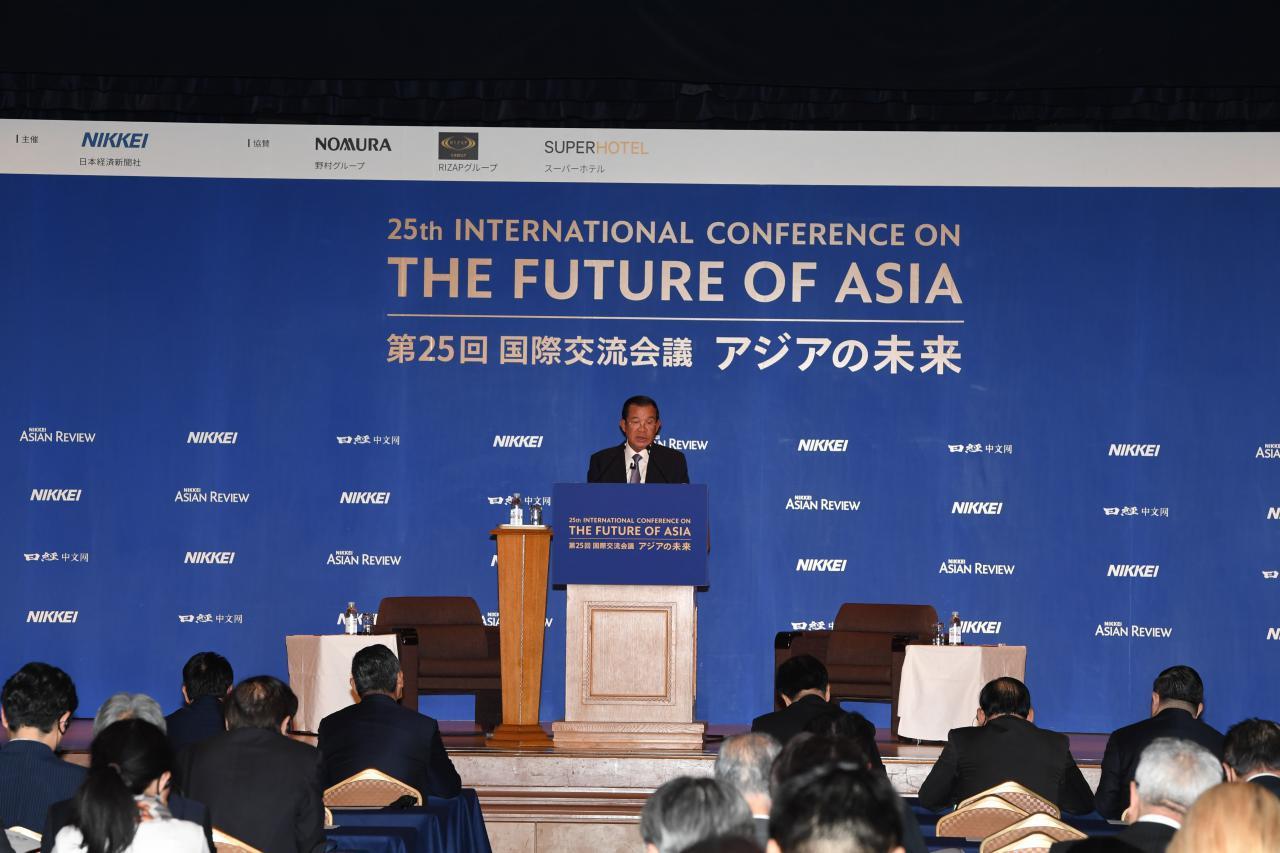 =FRESH NEWS